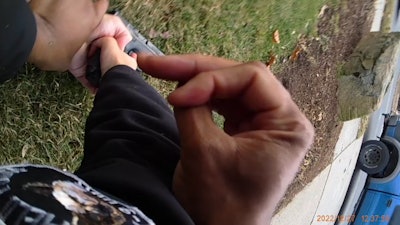 A "good Samaritan" is being credited with saving the lives of two police officers during a gun grab attack that happened earlier this week.
The Springfield Police Department reports on Facebook that Pedro Perez was driving by the scene Tuesday when he saw an officer "in distress." Perez reportedly jumped out of his vehicle and asked the officer if he needed help. Police say that when the officer—who was struggling with an armed robbery suspect during a gun grab attack—asked for help, Perez joined the fight.
A second officer arrived on the scene and the two officers and Perez fought with the suspect over the duty weapon.
Springfield Police say that during the gub grab attack, the suspect fired two rounds. One hit his own hand. The other hit Perez's truck. "Both shots narrowly missed the officers and Perez," police say.
The officers and Perez were able to get the duty pistol out of the suspect's hand, and the two officers placed him under arrest, police say. He was taken to the hospital for care of his gunshot wound. One of the officers was also treated for injuries incurred during the fight.
Springfield Police Superintendent Cheryl Clapprood said in a Facebook statement, "Without the help of Mr. Perez there undoubtedly would have been a much different outcome to this incident. His actions in all likelihood saved the lives of two Springfield Police Officers. This dangerous suspect had zero regard for anyone's livelihood and my officers involved put their lives on the line to prevent this individual from causing any additional harm. These officers displayed a degree of professionalism and bravery that their families, our fellow officers and the residents of the city they serve should be extremely proud of."
The suspect, 41-year-old Joseph Gonzalez of Springfield, faces numerous charges, including three counts of "firearm-armed assault to murder," one count of assault and battery to disarm a police officer, and two counts of assault and battery on a police officer.