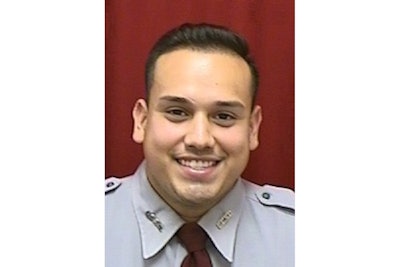 A Cumberland County, NC, sheriff's deputy was struck by a vehicle and killed early Friday morning.
Deputy Oscar Yovani Bolanos-Anavisca Jr., 24, was assisting in the investigation of a gas station robbery.
The Cumberland County SO said in a statement "As deputies returned from running a canine track, our deputy, who was walking, was hit by a vehicle."
Deputies at the scene administered lifesaving efforts and an ambulance took Bolanos-Anavisca to the hospital, where he died from his injuries, according to the release.
The driver, identified by authorities as Nicholas Terlizzi, 24, reportedly left the accident scene but was located a short distance away.
Terlizzi faces multiple charges, including felony death by vehicle and driving while impaired.
"Deputy Bolanos-Anavisca, Jr. was a dedicated, selfless member of the Sheriff's Office who lost his life protecting the citizens of Cumberland County," the sheriff's office said. "He started his career with the Cumberland County Sheriff's Office in November 2020. Before being assigned to the "C" platoon as unit C-12, Deputy Bolanos-Anavisca, Jr served as a school resource officer. We share the sorrow with his immediate family and the loss of one of our own."