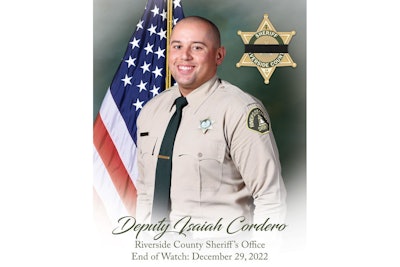 The mother of a slain Riverside County sheriff's deputy on Friday demanded the resignation of a judge who had previously released the lawman's shooter despite a violent criminal record.
Deputy Isaiah Cordero's mother eulogized his memory during a heartfelt funeral ceremony at Harvest Christian Fellowship Church, ABC7 reports.
She also slammed San Bernardino Superior Court Judge Cara D. Hutson who had deferred action on a case involving Deputy Cordero's killer, a three-strike felon.
"Judge Cara Hutson, my family is devastated. My son was a good man," she said. "My family and Isaiah's brothers and sisters and his community demand your resignation."
Riverside County Sheriff Chad Bianco said Cordero, a motorcycle deputy was killed after stopping 44-year-old William Shea McKay of San Bernardino.
McKay had a long and violent criminal history stretching back to before 2000 that included kidnapping, robbery and assault with a deadly weapon, according to Bianco. McKay was convicted of his third strike in 2021, and the sheriff said he should have been sentenced to 25 years to life and not been on the street.