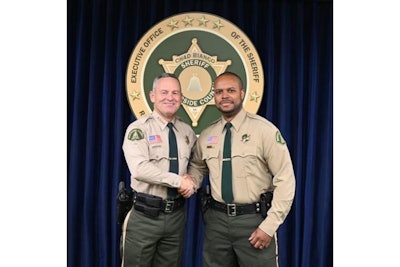 A Riverside County (CA) Sheriff's Deputy was shot and killed Friday afternoon answering a domestic violence call sparked by a child custody issue in Lake Elsinore.
Deputy Darnell Calhoun, 30, was the first deputy to arrive on the scene. A second deputy responding to the call found Deputy Calhoun mortally wounded in the street. The second deputy and the suspect exchanged fire and the suspect—identified by Riverside County authorities as 42-year-old Jesse Navarro—was critically wounded. Further details on the suspect or his condition had not been released as of Sunday afternoon.
Calhoun was shot in the leg and torso and died at a local hospital. He is the second Riverside County deputy to be murdered in the line of duty within a 15-day period. Riverside County Sheriff's Deputy Isaiah Cordero was shot and killed during a traffic stop Dec. 29. Sheriff Chad Bianco said that prior to the Cordero shooting, the last murder of a Riverside County deputy occurred nearly 20 years ago. Deputy Bruce Kevin Lee was killed in 2003.
Asked during a press conference to comment on the tragedy of losing two deputies to felonious attacks in less than a month, Sheriff Bianco said, "There is a growing population of people who have zero respect for other people and zero respect for law enforcement." He added that because of this "minor" issues are leading to gunfights between law enforcement and suspects.
Deputy Calhoun was married with two young sons, and his wife is expecting.
He served two years with the San Diego Police Department before transferring to Riverside County SD last February.
"We are mourning with San Diego PD," Sheriff Bianco said.