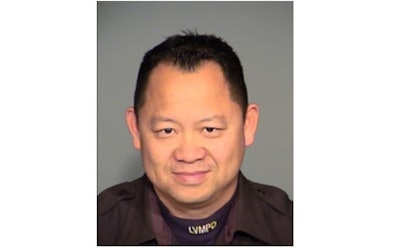 Prosecutors are seeking the death penalty against a man accused of shooting and killing Las Vegas police officer Truong Thai in October 2022, according to court records.
Tyson Hampton, 24, is facing charges of murder, battery, battery constituting domestic violence, four counts of attempted murder, two counts of assault and 19 counts of illegally discharging a weapon, court records show. Hampton is accused of shooting and killing Thai, who was responding to a report from Hampton's wife that her husband was beating her, the Metropolitan Police Department has said.
Clark County District Attorney Steve Wolfson previously said that he was considering pursuing the death penalty against Hampton. On Thursday, prosecutors filed a notice of intent to seek the death penalty, indicating that they are officially seeking capital punishment, court records show, the Las Vegas Review Journal reports.