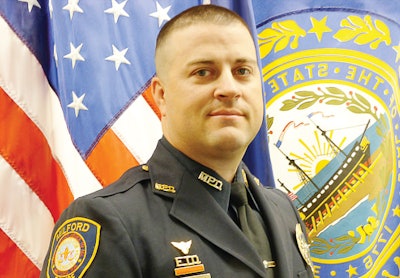 Sgt. Kevin Furlong of the Milford (N.H.) Police Department intended to provide backup when he coordinated the response to a possible home invasion robbery. Instead, he was the first on scene to aid a severely lacerated 11-year-old girl. For his actions, Furlong has been recognized as the September 2011 Officer of the Month by the National Law Enforcement Officers Memorial Fund.
Mont Vernon, N.H., is a small enough town that it doesn't have a full-time police department. That was how, as Milford PD patrol supervisor on October 4, 2009, Sgt. Furlong received a mutual aid request from Mont Vernon dispatch at 4 a.m. A 911 call had indicated a home invasion robbery might be in progress before contact was lost.
Furlong had dispatched another Milford PD officer he intended to provide backup for just in case, but Furlong was the first to arrive. As he approached the residence on foot after exiting his car, he looked in through a large bay window that provided a clear view of the kitchen. There, he saw a girl's bloody face peer up over the counter and sway side to side.
Fearing for the girl's safety, Furlong radioed dispatch to request an ambulance and to advise he was about to attempt to enter the house. But he found the solid oak front door locked, the deadbolt engaged. He kicked the heavy door twice while announcing himself as a Milford PD officer, but he couldn't make it budge and he received no response. Undaunted, the sergeant took a few steps back, took a running start, and shouldered the door. It took one more try, but he finally broke the door jamb, bringing the door crashing down inward.
Now inside, Furlong could clearly see the girl whose face he'd glimpsed through the window. She was on the floor in the kitchen, drenched in blood. She tried to scream but no sound came out. The phone was off the hook nearby.
"I got close to the girl, and basically told her I was there to help, nobody was going to hurt her," says Furlong. "She was just shaking and she whispered, 'I think my mommy is dead.'"
The girl whispered because her jaw had been sliced so deeply it was almost cut off of her face and she could hardly speak. She was also missing half of one foot, and other parts of her leg were barely connected. She'd received multiple lacerations. Furlong picked her up and carried her outside.
No other Milford officers had arrived yet, but he knew they were on the way. Furlong told the girl he needed to go inside to check on her mom and inspect the residence.
"She begged me not to leave her, but I promised her nobody else would hurt her, and I'd be back," Furlong remembers. He asked her to stay where she was and then drew his duty weapon and flashlight before going back in the house .
He found the mother lying dead on the bed in the master bedroom, her head and body slashed with a machete. A now empty jewelry box with the top missing was on the ground, and someone had smashed open the sliding glass door to the room to gain entry. Blood covered the floor throughout the house. In the basement, Furlong found another source of entry, a small window that had been smashed inward. He completed his search, not finding any further victims or any suspects.
Back outside, Furlong found Officer Eric Wales doing his best to tend to the girl's wounds and comfort her. But she began to go into shock. Furlong ran to Wales' cruiser and returned with a solar blanket that he wrapped around the girl to stabilize her temperature. An ambulance soon arrived to take her to the hospital for medical care.
As other officers arrived, Furlong requested a K-9 unit to search the surrounding woods for suspects. None were found then, but the four teens involved were later arrested. Two were found guilty of first-degree murder and sentenced. The others reached a plea agreement and have also been sentenced. All were awaiting appeals at presstime. "The investigators did a phenomenal job to bring closure to the victims," says Furlong. "They don't always get recognized."
Unfortunately, the severed portion of the girl's foot could not be reattached and she has many lasting scars, but she has now recovered from her injuries as best she can and is back in school and under the care of her father, who had been away on business when the attack occurred. Furlong has recovered from surgery to repair his rotator cuff and a torn tendon suffered breaking the door down, and continues to protect the citizens of Milford and surrounding areas.
Furlong downplays reports that he went "above and beyond," but feels good about how he and his department handled the incident. "We acted as fast and efficiently yet safe as we possibly could," he says. "Her injuries were just so severe that there was really no time to think about it or go back and do anything over again."