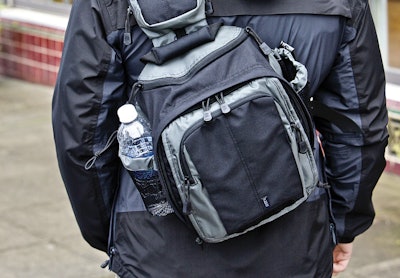 The 5.11 Tactical Zone Assault Pack (ZAP) found its way to me a few weeks ago and shortly thereafter alleviated many of the gripes I had with previous tactical daypacks. First off, the construction is top notch. The seams, zippers, pouches, and materials are very durable and have yet to show even a hint of wear. The back of the main compartment and shoulder strap are well padded and ventilated so the pack stays cool and comfortable. 5.11 got the ergonomics and weight distribution right, too, as even when fully loaded the pack stayed put and didn't fatigue my shoulders.
Inside there are several pockets for just about everything you'd need to carry, including a hook-and-loop panel for 5.11's Back-Up Belt system, which allows the user to add a variety of pouches and holsters to fit his or her needs. I carried a full-size pistol and two magazines with ease. Everything from pens and flashlights to PDAs, water bottles, and sunglasses have a specific place. Want to add a ballistic plate or large ID patch? There's a place for those, too.
As great as the interior of 5.11's Zone Assault Pack is, the best part is the exterior design. Most others on the market only come in military colors and/or covered in MOLLE loops. This pack is cool black and gray and doesn't advertise to the world you might be carrying a weapon, which is the last thing you want to do if you're working undercover or are at the mall with your family. All in all, if you're looking for the perfect everyday, go-everywhere pack, pick one up. You won't regret it.—A.J. George
SureFire: Mini Sound Suppressor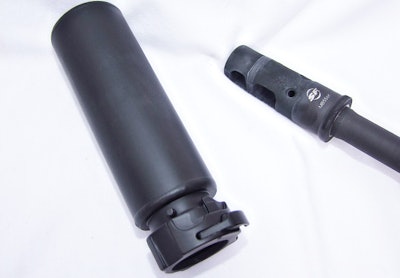 Several years ago I attended a conference at SureFire's headquarters where we covered everything from the science of lighting to new products. At the time, sound suppressors were some of the newest products in the SureFire line. The company gave we gunscribes an opportunity to shoot an AR-15 with one of their "cans," or suppressors, at the sheriff's indoor range, and as advertised it did markedly reduce sound output.[PAGEBREAK]
The folks at SureFire have done hundreds of hours of research on the design, manufacture, and materials that make a suppressor functional and durable. SureFire's "cans" have endured thousands of rounds being fired through them from M240 and M249 machine guns. Not many other companies are capable of doing this and still reducing noise and muzzle flash. SureFire is pretty tight lipped about what materials they use in the manufacture to accomplish this.
A major distinguishing feature of SureFire suppressors is the mounting method. Most suppressors screw onto the muzzle, but SureFire uses its patented All Sure Fast Attach. This indexed twist-to-lock system locks the suppressor to SureFire's muzzle brake or flash hider. This system gives you a fast-on, fast-off lock that gives repeatable accuracy performance. With most other suppressors, point of aim and point of impact vary, which can have bad results where precise downrange performance is required.
SureFire calls its muzzle brake/suppressor system Total Signature Reduction. What this means is the noise signature is reduced and dispersed, making pinpointing the sound and flash virtually impossible unless you are very near the shot. In my unscientific tests, I can tell you if you employ the suppressor and are behind a wall when the weapon is being shot, it is difficult to tell what part of the range shots are being fired from.
I have run the SureFire Mini suppressor on three different ARs and a SIG 556. Accuracy out of all four weapons was already excellent; the Mini did not affect this at all. It did allow for faster follow-up shots as there was literally no muzzle rise no matter the shooting position. The Mini quickly and easily goes on and off of each firearm; I have a SureFire's muzzle brake on the ARs and a SureFire flash hider on the SIG. All of the rifles still shoot MOA with the Mini attached, and they show no preference to ammunition manufacture or bullet weight. This is important should there be a lack of ammunition choices.
It is my humble opinion that if your agency deploys long guns you should have SureFire's TSR. You will reduce damage to your hearing should you shoot without hearing protection, inter-team communication is easier due to reduced noise, and you will find accuracy may improve because of reduced flinch. If you have to employ your long gun the TSR will reduce the odds of the bad guy finding you, increasing officer survivability.
While the tested Mini is only built for firearms chambered in 5.56 NATO/.223 Remington, SureFire manufactures suppressors for 6.8 SPC, 7.62 X 51, and .338. This should cover most calibers deployed by law enforcement. If your agency chooses not to deploy suppressors, I highly recommend SureFire's muzzle brake or flash hider. They reduce muzzle flash and the brake dramatically reduces muzzle rise.—Scott Smith

Mountain Khakis: Alpine Utility Pants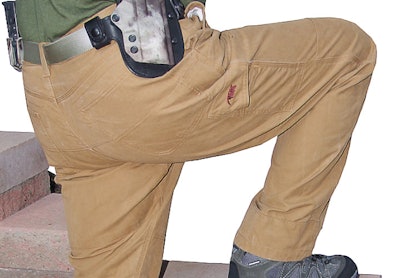 When it comes to wearing clothing that blends in off duty or undercover, sadly most of the time we fail; our garb simply calls out "cop." This could be due to the fact that many of us wear our favorite "tactical" pants instead of just black- or navy-colored ones.
If you are looking for a pair of pants that doesn't scream cop but more or less shouts anything but, I suggest Mountain Khakis. In fact truth be told, if you add a pair of roper western boots you will look like a ranch hand, add a pair of Redwing boots and you will double as a mechanic, lineman, etc.
Mountain Khakis Alpine Utility Pants look more like serious work pants than anything a cop would be seen in. And sometimes that's exactly what you want. The cotton canvas will remind you more of Carhartt than Galls. They will also wear more like iron than most clothing you will find in a big box store.
One of the things you won't find on the Alpine Utility Pants is big cargo pockets. What you will find in their place is a small, flapped pocket on the right thigh that will hold a knife, small cell phone, MP3 player, and other necessary items.
I have been wearing my Alpine Utilities for nearly a year and since the initial washing they have not faded or shrunk in size. The cotton canvas is like fine leather; it gains character with age and can be dressed up or down depending on your shirt and footwear.
Alpine Utilities look good on the range, in the field, or out at your favorite diner. You will look like anyone else out on the town and not give your vocation away by your attire. Check out the entire line of Mountain Khakis; you will find clothing that will serve you well for years to come.—Scott Smith