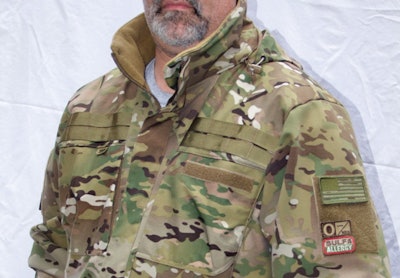 With the onset of cold weather the need to stay warm and dry in the rain, snow, and wind becomes a pressing matter. Nothing will ruin a day like getting drenched by 35-degree rain. This year, 782 Gear introduced a line of clothing to keep you warm and dry on the nastiest of days.
The Rogue is 782's flagship parka. The fabric makes this "hard-shell" jacket virtually waterproof. It is also quiet. Most "hard-shells'" make that swishing sound that is not only annoying but can give you away when you require stealth.
To keep you warm, the shell is lined with Polartec Power Stretch fabric. This fleece does not grab and pull on most of the uniform shirts worn under it. And because the parka is lined, you don't need to wear an additional layer underneath, reducing the bulk of your outerwear.
You will also find plenty of pockets in this parka to carry your gear in and keep your hands warm. Two zippered chest pockets for securing items can be accessed when worn under most tactical armor. There are flapped cargo pockets at the waist, and behind these are fleece-lined hand warmer pockets. There are even three pen pockets on the left forearm of the jacket.
Other features of the Rogue include hook-and-loop ID patches on each arm to secure unit patches and zippered slashes with dual zipper pulls so you can zip the slash around your handgun.
I have found the Rogue capable of combating the nastiest of rains and fighting off the morning chill.
782 Gear offers an entire line of base and mid-layers to combat the coldest of weather available at tactical suppliers like Tidewater Tactical and U.S. Cavalry.
Ultra-durable 3-layer Gore Military fabric
Weave 4-way stretch soft shell with DWR
Polartec Power Stretch fleece
L&R 2-way side zip access to belt hung essentials
Zip chest pockets, pencil/Maglite sleeve pocket
Zip core vents allow access to shirt pockets
ID panel stows in tail pocket (optional, #7825003)
Colors: Black, MultiCam
Price: $452