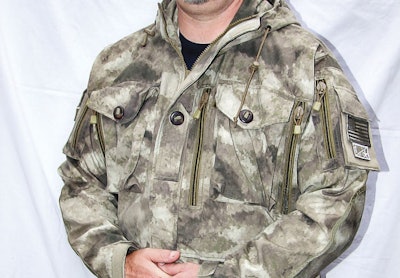 Police officers have gear for all occasions. However, many overlook the need for a hard use jacket. Before you laugh, think about doing searches for people, vehicles, etc., in the woods? What if you have to go from patrol to SRT duty in a flash? At times you need more than just a weather-proof parka; you need one that will hold up to contact with trees and rocks as well as walls and vehicles. Special Operations Research and Development (SORD) offers just such a jacket, its version of a RECCE smock, to fill this need.
SORD's Smock is made to survive the woods and streets. You will find 11 pockets to carry a lot of gear. There are five pockets around the waist, four on the chest, and one on each bicep. The location of the waist pockets makes the Smock a fine sniper/observer coat; the pockets accommodate range finders, a small spotting scope, etc. These pockets can also handle medical supplies, food and water, and lights; most anything you need for SAR or SRT duties but don't have on your duty belt.
The ability to carry specialized gear makes the SORD Smock practically perfect for use in these non-traditional roles. You can keep the pockets packed with your special use gear and have it all on in a moment's notice. No need to search the "g-ride" for your energy bars, water, or medical kit. You will have it all secure in one place, saving you time when you need to grab it, put it on, and go.
SORD's Smock is cut large enough it will fit over a tactical vest if you purchase your normal size. My SORD Smock is a large and it will fit over my IIIA soft armor and a heavy fleece jacket. I have used the SORD Smock while evaluating optics and rifles and the nylon elbows and forearms have shown no signs of wear. Most of my shooting is done off the ground, not a bench, and the grass, rocks, and twigs can tear up the elbows of issue BDUs.
While this smock is not waterproof, it is somewhat water resistant. If you are anticipating a rainstorm, you can put your packable rain jacket under the smock. This does a few things in a field environment: keeps you dry, protects your rain gear (which can be fragile compared to NYCO), and reduces noise in a tactical situation.
If you or your agency need outwear for non-traditional applications, the SORD Smock should be a parka to consider. It is well built, can handle harsh use, and will keep your gear at hand. You will find this parka in MultiCam, ATACS, and low-profile tan to meet your mission requirements.
SORD Australia Smock Jacket Specs
Material: NYCO in ATACS and MultiCam; ripstop cotton in tan
11 pockets
Reinforced elbows and forearms
Sizes: Small-X Large
Price: $250