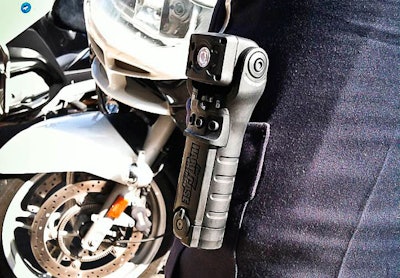 Few officers will argue that a good flashlight is, next to your duty weapon, probably the most essential piece of gear on duty or off. Energizer now has a line of "Hard Case" flashlights designed around the parameters of LE and Military use and they sent me one of their 2AA Swivel Lights to put through the paces.
Right out of the box this light felt like a solid piece of equipment. It was well made and coated with a rubberized finish for grip. It runs on 2 AA batteries but will also function on just one in a pinch. I can't imagine these last as long as the CR123 Lithium batteries most lights are using these days, but they are certainly much cheaper and readily available. I'm still on the first set after quite a bit of use.
The battery compartment is sealed with a gasket to make it waterproof and there is a nice metal clip on the back to attach the light to a belt or vest. The head swivels 130 degrees and locks in place, making aiming easy. There are five different LED lights, all with various levels of intensity, and each has its own solid rubber power button. This makes for simple operation by feel or when wearing gloves. There's also a throw lever that allows the user to switch to the infrared mode (fifth LED) or lock it out completely.
Light output from the colored LEDs was good, and the white LED was bright and had a decent throw. Most dedicated handhelds are going to be brighter but this light is designed to be mounted on gear and illuminate a workspace; it does a good job at that. After a few weeks of use and abuse it is still running strong and has found a permanent home on my jump vest. I'd recommend it; it's a great product.
Energizer Bravo Hard Case Flashlight Specs:
Light Type: LED, infrared
Batteries: 2 AA batteries; fully functional with 1 AA when needed
Length: 5.6 inches
Weight with batteries: 6.73 ounces
Light Output: 77 lumens on high
Runtime: 8 hours on high mode white when powered by Energizer Ultimate Lithium AA batteries
Beam Distance: 48 meters on high
Modes: Bright white high-intensity LED (70 lumens on high), red LED, blue LED green LED, infrared, infrared strobe
Price: $125
A.J. George is a motor officer and firearms instructor for the Scottsdale (Ariz.) Police Department.