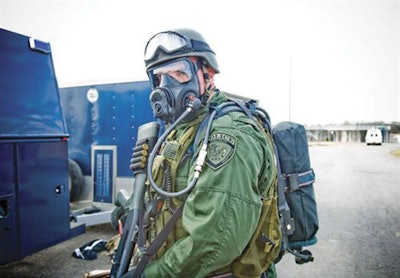 Twenty years ago if a police officer had a gas mask, it was probably a Vietnam-era surplus mask purchased from the U.S. military, and its sole purpose was to protect the officer from tear gas launched by fellow officers.
That started to change in 1995 when a Japanese cult attacked the Tokyo subway with nerve gas. Afterward, certain special teams on the larger American law enforcement agencies started to concern themselves with the possibility of chemical weapons attacks in the United States. These special teams needed military-quality chemical weapon gear. The law enforcement market for weapons of mass destruction protection was born.
That market boomed six years later with the 9/11 attacks. Following the attacks, the newly formed Department of Homeland Security offered grants to local law enforcement agencies to equip officers to operate in chemical, biological, radiological, and nuclear (CBRN) environments.
Today, there's less emphasis on equipping every law enforcement agency in America for responding to CBRN incidents. But that doesn't mean that some officers at some agencies are in need of the latest personal protective equipment.
The following is a quick look at some of the latest gear for protecting officers and the public from CBRN attacks and for responding to those attacks.
Avon Protection Systems: ST53 SCBA
The Avon Protection Systems ST53 SCBA system is certified by NIOSH for industrial protection under 42 CFR 84 as a self-contained breathing apparatus. The Avon ST53 SCBA system is back frame mounted, with 30-, 45-, or 60-minute air cylinder options and can be used with specified accessories including communications and additional visual enhancements. The complete system provides flexible respiratory protection against select Toxic Industrial Materials and particulate matter, including radioactive dust threats to the operator.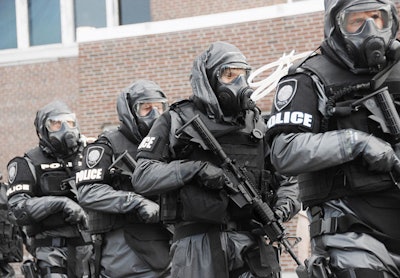 Blauer: XRT Ensemble
The XRT ensemble is the best selling product in Blauer's Homeland Defender line of NFPA 1994 Certified CBRN protective gear. Made with lightweight and breathable GORE CHEMPAK fabric, the XRT is suited for extended wear with approved respirators and SCBAs within contaminated environments where concentration of CBRN agents is at "warm zone" levels. The suit is self-sealing and requires no chemical tape and minimal training and can be quickly self-donned due to its integrated gloves and booties and front-zipper entry. The Blauer XRT suit is used by key military and UASI regions as a PPE solution for perimeter control, warm zone rescue, triage support, escape, and DECON.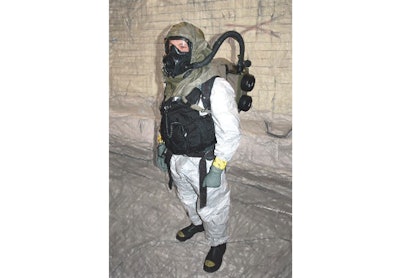 Draeger: SCBA-G
The SCBA-G is a modular combination SCBA/PAPR designed to provide long-duration breathing protection to emergency responders. Utilizing proven, tested technology, the SCBA-G is ideal for missions requiring long entry/egress or involving unknown elements that may require more or less protection. Without exposure to the environment, the user chooses the level of protection-compressed or filtered air. Featuring the Draeger AirBoss PSS100 SCBA and C420 PAPR technology, the SCBA-G's modular design provides the option of a standard, standalone SCBA or CBA (Combination Breathing Apparatus).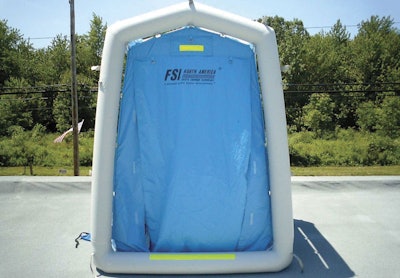 Fire Safety International: Decontamination Shower
The FSI DAT 2020S is a self-contained inflatable first responder hazmat decontamination shower system. It holds 100 gallons of spent water before requiring pump out. Each shower has two roll-up windows, two skylights, and full-closure slip-in-and-out dirty entry/clean exit doors on each end. All canopy walls are attached to the air berms with hook-and-loop fasteners. Comes with seven spray nozzle heads and a multiple function spray gun that can gently but thoroughly drench contamination victims. Comes complete with electric inflator/deflator, stakes, repair kit, and high-pressure SCBA fitting. Available in blue, green, white, and tan.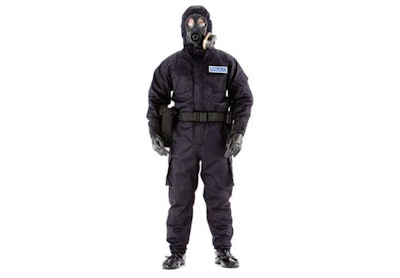 Remploy: Frontliner Suit
Remploy's Frontliner suit provides protection against a wide range of toxic industrial chemicals (TICs) as well as weapons of mass destruction (WMD) contaminants. Its three-layer system provides incremental levels of protection. The "Cooler" inner layer is a jersey-knit base layer made from dedicated SMART materials that helps dissipate excess body heat with minimal heat stress. "Britannia," the intermediate layer is a hooded, full body cover garment made from a lamination of polyester and adsorptive carbon layers and bio-membrane filter. With chemical-proof rear zip access, it provides CBRN protection against vapor and particulate contaminants. The "Peeler" outer layer is a one-piece coverall protecting the user from head to ankle. Made from high performance Nomex meta-aramid fibers and materials laminated with PTFE membrane, it offers flame retardant and liquid splash-vapor/bio protection.
The Hammer Suit is a Saratoga chemical and biological warfare agent protective suit specifically designed for first responders. It is produced in the same battle-tested, two-piece configuration as the JSLIST Suit used by the Department of Defense, but in navy blue and with hook-and-loop fastener tape on the chest and sleeve shoulders for the placement of department identification patches. It is also available as a one-piece coverall. Tex-Shield Hammer Suit meets or exceeds the level of protection against chemical warfare agents specified in U.S. MIL-C-29462. Tex-Shield is the exclusive U.S. licensee of the Saratoga chemical protective technology, which is based on a proprietary activated carbon sphere technology.