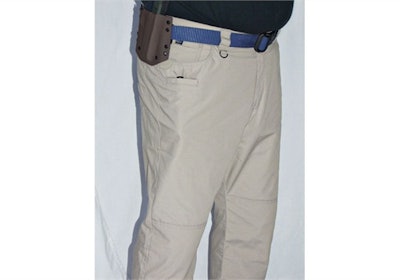 Like other Taclites in 5.11 Tactical's line, the Taclite Jean-Cut Pant is built with you in mind. Unlike many other casual pants, with these you can wear a true pistol belt because the belt loops are big enough for it and they're not oddly placed. Being able to wear a true "gun belt" when out of uniform is important to keep your sidearm from moving and flopping around. When your holster moves and tilts you print through your cover garment, showing you are "armed." You will not have this issue with the Taclite Jean-Cut Pant.
Another feature that helps keep your profession on the down-low is these pants look like jeans. When you are in the mall, working the street, or on a protection detail, you need to fit in. Most of the tacti-cool pants don't do this. Yes, cargo pants are worn by lots of folks, but heavy, bulky duck canvas pants don't always fit the surroundings. You need to have pants that look casual, comfortable, and allow you to move when you need to. The ripstop Taclite material further helps with this. It is durable, lightweight, and dries quickly, and the smooth ripstop material looks good.
5.11 even cuts the pockets like those on the jeans worn by cowboys across the country. This means you have traditional patch-type rear pockets and modified slash-front pockets. Above the rear pockets on the lower portion of the waist band seam you will find a pocket that easily allows you to carry an AR magazine. Low on the front of each of the front pockets are small slash pockets. These look like small tool pockets and are a good place to carry your light or knife, and even smaller cell phones.
I found the Taclite Jean-Cut Pant to be comfortable to wear and presentable enough for many occasions. And it should not go unmentioned that there is sufficient room in the seat area to do a squat without harming the family jewels and without blowing out the crotch. I have had pants fail on the range when shooting from a squatting position, but this has not happened with the Taclite Jean-Cut Pant or any pair of 5.11 pants I have used for training, duty, or competition. Check out the new Taclite Jean-Cut Pant to round out your wardrobe.
5.11 Tactical Taclite Jean-Cut Pant Specs
Design: Patterned after the traditional jean, trim and professional appearance with a slim cut, shaped waistband
Fabric: Lightweight Taclite fade-resistant 6.14-ounce, 65% polyester/35% cotton ripstop
Pockets: 9, including internal magazine pockets
Features: Genuine YKK zippers, Prym snaps, Teflon treated for spill and stain resistance
Colors: Khaki, dark navy, TDU green, charcoal
Sizes: 28-44W, 30-36L
Price: $54.99