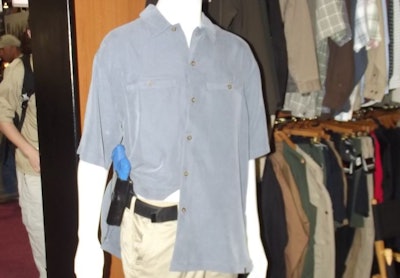 Any law enforcement officer who carries concealed off duty knows it can be difficult to find clothing to accommodate a hidden firearm, both visibly and functionally. That's why more manufacturers are stepping up to the challenge, creating shirts and pants that don't print and provide easy access to your weapon. These same companies are also creating footwear and packs that don't scream "cop," yet meet your needs.
While I am a fan of cargo-style pants for duty, training, and casual wear, there are times when they are not appropriate. Unfortunately, casual clothing from your favorite chain store is not designed to carry a firearm, magazine, possibly handcuffs, and other necessary gear.
An additional area that law enforcement apparel companies are finally addressing is the need for clothing to meet a woman's needs. There are more and more women entering the law enforcement and shooting communities. And it only makes sense that women want clothing cut to fit them, instead of having to make do with supposed unisex men's clothing.
Shirts
For every officer, when it comes to concealed carry, one of the most obvious pieces of clothing that must fit properly is a shirt. Most will drape over and print where you are carrying your handgun. The other issue with your average shirt is it's designed to be tucked in; wearing a shirt this way will only conceal a handgun if you wear an inside-the-waistband holster.
To effectively conceal a handgun, shirts need to be more of the boxy "Hawaiian" tourist style or cut like a baseball jersey. These shirts are designed to hang properly—loosely— to not print your handgun. "Hawaiian" shirts work well in warm climates, while I have found baseball shirts go unnoticed year round, especially if you choose a college or racing team, since those sports tend to take place year round.
Let's take a look at some recently introduced shirts from popular manufacturers that fit well and are designed to conceal a firearm, spare magazine, and even a phone or radio.
5.11 Tactical has added to its line of concealed carry shirts the Covert Casual Shirt and the Covert Dress Shirt. Designed to be worn untucked, the Covert Casual Shirt has a boxy cut with tear-away side flaps and snap fronts so you can easily access a shoulder holster or a belt holster while still not printing.
The 5.11 Covert Dress Shirt looks like a traditional button-down, but it allows you to access your shoulder holster or undershirt holster. This is accomplished by using snaps with fake buttons that simply pull away to grant you smooth access to your holster. You can also carry ID or a notepad in the concealed chest pockets, just like the boxy cut Covert Casual. With these styles, 5.11 offers you a choice of dress or casual to meet your needs on or off duty.
BlackHawk Products Group is making a play for the casual market with the 1700 Series Shirt for men and the Strenia for women. Polo-style shirts are also available for men and women. The 1700 and Strenia are cut boxy and designed to be worn loose. These shirts are sized comfortably, meaning they can be worn open over one of BlackHawk's Performance Polo Shirts. If you prefer to wear it on its own, it will look like any standard casual shirt you'd see the average civilian wearing around town.
A new player in the concealed carry/off-duty clothing market is Smith & Wesson. Yes, the same folks who manufacture the successful M&P. S&W has teamed with Wild Things Clothing to bring both men and women clothing that is cut long enough to conceal a holster, is tough enough to wear well when your sidearm touches, and fits the surroundings with barn-style jackets, winter quilted jackets, and more. This line will be out midyear.
Tru-Spec has become a popular supplier of tactical clothing and outerwear. This year the company added Concealed Designs shirts to its 24-7 line. These button-down dress shirts look like standard suit attire, but they are built to allow you access to a shoulder holster or IWB holster. Even the material of these feels like that of a true dress shirt; look for them this spring.
Woolrich's Elite Tactical Series of clothing carries the tradition of durable mission built clothing that Woolrich has offered hunters and others for decades. The CCW Short-Sleeve shirt is the latest shirt in the Elite Tactical Series. Like Woolrich's other shirts the CCW looks good, fits well, and blends into any casual setting. Its modal/polyester blend wears like iron, drapes well on the body, and is resistant to staining. What I like about this shirt is that it dries quickly and looks good even on a hot, humid day.[PAGEBREAK]Pants
Tactical pants have become extremely popular among law enforcement and shooters, but some are more obvious than others. It's a good idea to choose pants for casual wear that are a little more subtle, and don't broadcast the fact that you might be carrying extra magazines in your pockets.
The BlackHawk Tactical Pants, while named such, look and feel like classy cargo pocketed chinos. They can be had in lightweight, ultra lightweight, or performance cotton. All of these pants are styled the same. The difference is in the weight of the fabric, so you can choose a model based on how hard you are on your pants, without sacrificing appearance.
BlackHawk is making a big move to be one of the few companies to have pants tailored for women. From what I was told they are tailored to be a traditional female rise (not shrunken men's pants), giving the ladies a more comfortable, nicely fitted pair of pants. While cut for women, these pants are built as tough as the men's version. BlackHawk's clothing has evolved and the latest models, be they male or female, look good and are built to last.
Blauer is known for more traditional uniforms, but its new Operational Trousers have low-profile zippered utility side pockets with inside compartments, and welted rear pockets and a cell phone pocket look like those on the average casual pants. The trousers, with 10 pockets in all, are made of a durable ripstop cotton blend fabric weave that makes them breathable and comfortable. They come in silver tan or desert green.
Tek2 Trousers from uniform manufacturer Elbeco are designed with some of the features that are preferred in "street" pants, such as a concealed tuxedo waistband, but also contain the functional features needed for duty, such as durable construction and useful pockets. They are also available in both men's and Ladies Choice styles.
Last year Propper introduced its Genuine Tactical Pant, which continues to be a strong performer in the Propper Line. These slacks look like any other "cargo" pant, except they are built to carry your gear. The cargo pockets have slash tops that allow you instant access to a storage pocket behind the main flapped cargo pocket. The other difference between the Genuine and big-box-store cargo pants is the material. While it is a poly/cotton blend, the fabric is highly stain resistant. I say this from experience, having spilled paint on my Genuine Tactical Pants; with a bit of dish soap the stain washed right out.
Another company making inroads into the shooting market is Vertx. This Fechheimer company burst on the scene a couple years ago and is popular with many professional shooters because they wear well, fit well, and are competitively priced.
Vertx Phantom LT pants have a very low-profile cargo pocket; the gussets are on the inside of the leg, not the traditional placement in the center of the outer layer. This makes the pants look like dress chinos from several of the mall stores, so you won't look out of place. These stain-resistant cotton/poly blend pants are available in desert tan, navy blue, khaki, black, and OD green, so you can match them to your other off-duty clothes. A women's version of the Phantom LT pants comes in the same colors.
Footwear
When getting dressed in casual or undercover clothing, footwear is often overlooked. Make no mistake, a pair of your favorite duty boots will scream "cop," no matter what else you're wearing. To combat this problem you need to look for footwear that is more neutral.
5.11's Tactical Trainer, Danner's Melee, Lowa's Renegade, Magnum's Intrepid HPi, and Rocky's TrailStalker are representative of footwear appropriate for off duty. They are all tough enough to handle whatever you come across when you are off-duty or undercover.
Lowa's Renegade, Rocky's TrailStalker, and 5.11 Tactical's Mid-cut Tactical Trainer all have a waterproof membrane so your feet stay dry in the wettest conditions. If you prefer a non-waterproof shoe, Magnum's Intrepid HPi, Danner's Melee, and the low-cut 5.11 Tactical Trainer are for you. All of these shoes will give you traction in the muddiest conditions and protect your feet from all but the nastiest rock outcroppings. And they'll do all of this while looking good, like more fashionable designer boots.
Packs
As another option, 5.11 Tactical offers several ways to conceal a firearm off body. While many folks may not like this method, in some settings this may be the only option to maintain a non-descript look. The company's COVRT 18 and COVRT ZAP (Zone Assault Pack) are two such packs.
The 18 is daypack sized and can easily carry most laptops in its main pocket while concealing a duty-size handgun in its hook-and-loop pocket. Outer pockets can be configured to carry various magazines, optics, etc. This pack is meant to allow you to blend in with the tourist crowd at any venue.
If you prefer a smaller single shoulder pack, the ZAP might be for you. Because of its smaller size you will not be able to carry a laptop in it, but you can carry a notepad, no problem. There is also a pouch for your phone or other small electrical devices, and a concealed pocket to secure your handgun so it is at the ready in a snap.
Both of these packs are available in a number of colors so you won't stand out. The materials are heavy-weight, abrasion-resistant nylon, which will keep your gear dry and secure in the toughest environments. These packs are built to meet the needs of a GI with the looks to blend into a college campus.
As you can see, the makers of tactical gear are making more and more apparel for use off duty or in plain clothes. You will get the same quality, you will not be dressed like a "cop," and you will have a more stylish look. This will make your significant other happy at a party, but more importantly, it may save your life while working when stealth is required.
Scott Smith is a former federal police officer for the Department of Veteran's Affairs who currently serves as a reserve officer.
Off-Duty Clothing
Off-Duty Footwear