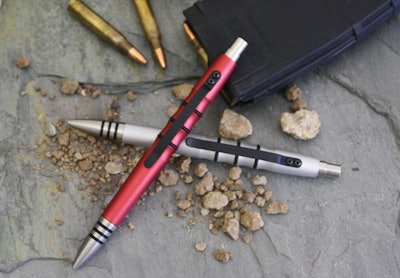 You might tempted to call it a "clicky pen" because its ink tip is retractable, but unlike other such writing implements it's so smooth there is no telltale "click." It's also much more durable than the kind you'll find at most offices, yet more cost-effective than others intended to double as kubatons. It's Tuff-Writer's Precision Press Pen.
"Out in the field if officers are taking reports, they don't want to tie up two hands in order to be able to work the pen," says Tuff-Writer General Manager Jack Roman. "And if you're going to use the pen as a control tool, you really want to have a free hand for whatever else you're going to do." Spurred on by requests from law enforcement customers for a tough pen that didn't look too tactical and could be used with one hand, the team at Tuff-Writer worked with noted defensive tactics instructor Michael Janich to develop the perfect product to suit officers' needs.
This journey included a search for the right advancing mechanism to retract and deploy the ink tip. The company experimented with manufacturing different designs using various materials, but discovered the ideal cam-driven "press advancing mechanism" already being produced by a company in Germany.
"This two-piece designed mechanism actually has a ball-bearing roller that rolls through the grooves, and then a C-clip attachment to hold the pieces together. It's fantastic," says Roman. "It is the best we could find, and it is smooth like silk." Hence the lack of an audible click.
After careful consideration, stainless steel was chosen for the tip of this all-metal pen, both for its durability and its functionality. "It's the most likely part of the pen to be hit and gets damaged more often, but it also front-weighs the pen for a nice balance in the hand," Roman explains. "Pens that are too balanced toward the back are uncomfortable to write with."
As Roman points out, if a pen "doesn't feel right," you won't want to use it or carry it. And while the Precision Press Pen is heavier than standard, non-tactical writing implements as a consequence of its durable design, it's still a nice, balanced weight that makes it useful for both writing and applying to pressure points. Constructed of aerospace-grade aluminum and stainless steel, the six-inch-long pen weighs 1.9 ounces.
Tuff-Writer is willing to get all aspects of a pen just right, creating it from the ground up. "We take a couple extra steps above and beyond what anybody else does when we do manufacturing," says Roman. "We torture test everything. If the body and tip can't get hammered through a two-by-four without deformation, we don't make the pen."
This dedication goes beyond endurance testing. For instance, instead of clips made of stainless steel, which are cheaper and resistant to corrosion but prone to snapping off, clips on the Precision Press Pen are made with spring steel. It's cold pressed, then heat treated and given a nickel plate or powder coat for corrosion resistance. "It's a lot more expensive, but it makes for a better product," Roman says. The same is true of the painstaking process used to give the pen a mil-spec hard-anodized finish.
To make sure customers get the most out of the $95 Precision Press Pen, it is designed to work with gel ink cartridges from Fisher, Foray, or Parker that can be purchased at any office supply store, and all parts can be individually replaced should anything break. An extensive lifetime warranty will cover most major replacement parts. Roman says, "Our goal is to make the best product, and take care of our customers the best that we can."