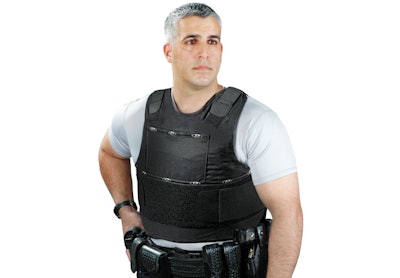 The statistics bear out just how dangerous a police officer's job can be.
On average one U.S. law enforcement officer pays the ultimate sacrifice in the line of duty every 53 hours, reports the National Law Enforcement Officers Memorial Fund (NLEOMF).
That fact becomes even more staggering when one considers that the number of line-of-duty deaths has been on an uphill climb.
Line-of-duty deaths increased 13% in 2011, when 173 officers lost their lives. Of that number, 68 officers died in firearms-related incidents, reports the NLEOMF.
That's the sobering reality law enforcement officers face every time they don a uniform, holster their guns, and go out on the street.
The good news is some of these deaths can be prevented if officers wear bullet-resistant vests. According to the Police Executive Research Forum (PERF), law enforcement officers who do not routinely wear body armor risk fatal injury at a rate 14 times higher than officers who do.
But though wear rates are better than they once were, PERF reports more than one-third of officers work unprotected.
Many officers do not wear their vests, saying they are too hot, too heavy, and too uncomfortable. "At the National Sheriff's Association annual trade show, an officer came up to me and said, 'I'm not wearing my vest today; it's too hot outside,'" says Matt Davis, CEO/president of Central Lake, Mich.-based Armor Express. "That's a real-world example of what happens. Comfort, heat, and weight are all things affecting officers' decisions to put on their vests each and every day."
Increasing wear rates requires a three-prong approach that includes fiber developers, bullet-resistant vest manufacturers, and law enforcement administration, stresses Mark Smith, vice president of sales and marketing at Point Blank Solutions Inc. of Cincinnati, Ohio.
"One-hundred % wear rates is the target we should shoot for because it will save lives," he says. "But achieving that 100% has to come from a joint effort that includes performance fiber manufacturers, application engineers creating ballistic packages, and police administration. If we do that and come up with products that are lighter, more comfortable, and proven to save lives, we will inch closer to that goal."
Safety Begins Locally
To date, only 60% of agencies require officers to don body armor on duty. In an effort to increase those numbers and ultimately save lives, the Bulletproof Vest Partnership, which reimburses up to 50% of a vest's purchase price, now requires agencies receiving funds to have a written mandatory wear policy for uniformed patrol officers.
"We believe that where collective bargaining is in play mandatory wear should be an issue agencies bargain for," states Chuck Canterbury, national president of the Fraternal Order of Police (FOP). "We don't have a lot of heartburn over mandatory wear policies because the bottom line is bullet-resistant vests save lives."
That being said, Canterbury warns individual agencies should be setting the mandatory wear policies, not the government. He explains blanket wear policies do not address the specific situations of individual departments.
"In the deep south, where you have officers working traffic detail in 90-degree weather, there have to be provisions for them to remove their vests. There need to be provisions for undercover officers as well," he explains. "There are scenarios that vests are just not suited for. That's why we believe mandatory wear policies should be determined at the local level."
Jeff Fackler, North American business leader for DuPont Protection Technologies, agrees. "The only way to ensure increased wear rates and to reduce injury and death is for all police agencies to have a mandatory vest-wear policy for active-duty street officers that is tailored to the needs of their respective departments."
Canterbury adds these policies should also address the types of vests needed for each geographic region. "Administrators can't just look at the low bid. They need to talk to the rank-and-file wearing these vests each day and do their homework to find the right vest for them."
Education is another important component in increasing wear rates, adds Davis. More than 3,000 police officers' lives have been saved by body armor since the mid-1970s when the National Institute of Justice (NIJ) began testing and developing body armor and performance standards for ballistic and stab resistance. The saves have been well documented but more needs to be done to ensure officers understand what wearing their vests means to them.
"Fundamentally it comes down to one thing and one thing only, and that is the individual officer's commitment to wearing his or her vest. It is extremely important that officers make that commitment," Davis says.
Point Blank's Smith points out there was a time when people wouldn't wear seat belts because they were perceived as uncomfortable; but today people understand that wearing them saves lives. This is where body armor wear rates need to go, he adds. "There are still a lot of agencies out there with officers who didn't wear body armor before and view it as keeping them from doing their jobs," he says. "As younger officers come in and are more accustomed to wearing body armor, wear rates will go up."
Finessing Fibers
"Tremendous progress has been made in taking the weight out of fiber," notes Smith, who points out this is an important development that ultimately increases wear rates. Removing weight enables manufacturers to produce thinner and more flexible ballistic panels that increase comfort.[PAGEBREAK]In 2003, the reliability of the fibers used in bullet-resistant vests was tarnished by a fiber called Zylon, which was found to degrade rapidly and offer less protection to officers over time. However, that black mark against the industry led to fiber innovations as well as a more stringent NIJ testing standard.
Developments by companies such as DSM Dyneema and Teijin Aramid's Twaron help bullet-resistant vest manufacturers create vests with weights approaching levels attainable under the previous NIJ standard. "At least with Level II vests, we've been able to get weights back down to where they were under the old NIJ standard," says Davis, noting Armor Express recently released a vest weighing .81 pounds per square foot and meeting the requirements of NIJ Standard-0101.06.
"Typically we are in sub-one-pound-per-square-foot range," adds Smith. "There are a lot of great packages on the market at one to 1½ pounds per square foot. Some are as low as .76 pounds per square foot. That's a huge improvement from five years ago. We've been able to remove weight pretty quickly and we expect that trend to continue as fiber manufacturers bring to market stronger, more durable fibers."
Research and development at the manufacturer's level plays an important role and today's bullet-resistant vest manufacturers push significant dollars into this. "We are constantly evaluating new materials that can help make the armor lighter and more comfortable without sacrificing ballistic protection," Davis says.
Boosting Comfort
The NIJ Standard-0101.06 requires vests to meet more stringent testing requirements than ever before including:
• Increased test velocities for Types IIA, II, and IIIA vests.
• An increase in the number of shots under which each vest must perform reliably. That number is nearly 90% higher than it was under the previous standard.
• Test panels must pass a submersion test where the vests must be fully immersed in 70-degree water for 30 minutes prior to being tested.
• A requirement for the vest to perform reliably after an accelerated aging process.
• A more aggressive shot pattern.
• Heat-sealed, rather than stitched, panels inside a water-resistant fabric. "This ensures panels offer a high level of moisture resistance," says Smith. "Zylon had a degradation in performance as it took on moisture. That moisture piece has been controlled by what we package the ballistic panels in."
Manufacturers must meet these requirements while also meeting officers' needs for comfort.
It's a balancing act Smith believes is only achievable by pushing past NIJ requirements. "NIJ certification is one requirement every body armor manufacturer has to meet," he says. "But products meeting FBI and DEA bullet-resistant vest standards ensure that panels that are lighter and more flexible are also able to stop a faster round with less backface deformation and ultimately less injury and risk to an officer."
Keep it Cool
One area that all manufacturers continue to struggle with, as the earlier example illustrates, is heat. Officers often forgo wearing their vests when the weather is hot, stating their vests are simply too uncomfortable to wear.
But there is one development on the horizon hoping to change that.
Empa, working with Swiss federal research lab Unico Swisstex, has prototyped a Kevlar vest with a cooling system in it. The bullet-resistant vest has an integrated cooling system made up of coolpads filled with water and a miniature fan that blows air through a fabric spacer behind the pads, cooling down anything around it—in this case, the bullet-resistant vest and the person wearing it.
Creating such a vest presented challenges, one of which was developing a fabric spacer that was stable under pressure, flexible and soft, and provided little resistance to airflow. Because no fans existed that were small enough to be built into a vest, Empa researchers developed miniaturized fans that could be recharged as needed.
"The fans had to be extremely small with very low power consumption and an air stream that provided good ventilation," explains Empa researcher Markus Weder.
The original coolpads used in the vest also had a problem: They needed to be refilled with water every hour. Empa developed a portable filling station that can be attached to the vest with a quick-release fastener.
"The original coolpad membrane, when filled with water, could cool for about an hour," explains Weder. "But for law enforcement applications, that timeframe was too short. We developed a flexible bottle in the vest that can be filled with water and lengthen the cooling time to three hours."
Zurich City police officers tested the vest in 2011. "The police who tested it have been very pleased with it and said it offered quite a bit of cooling efficiency," says Weder, who notes with testing under their belts, Unico plans to bring the vest to market at the end of 2012. "Unico will feed a small number of vests into the market and when they get feedback from the marketplace they plan to do a greater release," Weder says.
Canterbury sees the development as positive, stating, "The biggest obstacle to wearing a vest is the heat. As armor improves and the weight goes down, wear rates go up."
And as wear rates increase so does officer safety. A protected officer is one who goes home at night, not one who pays the ultimate sacrifice as he or she serves and protects.
Ronnie Garrett is a freelance writer based in Fort Atkinson, Wis.
Related:
Police Deaths Fall 43% In First Half of 2012
Police Fatalities Rise 13% In 2011
For More Information