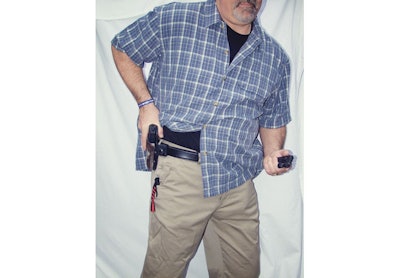 One of the biggest issues that folks in law enforcement have to deal with is clothing that gives them away. We get used to wearing comfortable, durable clothing on duty and in many cases it works well for off duty. The problem is your clothing might not be appropriate for the setting, or it could be as subtle as a neon sign telling all around that you are an off-duty cop.
Fortunately, Woolrich has a solution in its Elite Tactical Series. Combining the company's Concealed Carry Chino and Discreet Carry Short Sleeve Shirt makes for a casual clothing option that is functional and stylish.
The Chinos are cut like the classic twill pants, except they have a roomier cut and hidden pockets. Concealed zipper pockets inside the front slash pockets secure a small handgun and keep it from printing. A nice touch to the main front pocket is a small, flat area perfect for clipping your knife. The rear pockets have button flaps to give them that true chino look.
Woolrich's Discreet Carry Short Sleeve Shirt is made of a polyester/modal blend so it lies nicely and the material drapes so as not to "print" like a cotton blend will. This blend is also cool in the summer and dries quickly should you get wet from rain or perspiration. Another advantage of this blend is the 30 SPF UV protection, which protects the skin and makes the shirt more resistant to fading.
The Discreet Carry Shirt has a box cut and is meant to be worn untucked. This is popular style right now, so you won't stick out like a movie tourist when wearing it. These shirts truly are stylish and look good, to the point where people have complimented me when wearing one.
Woolrich's Elite Concealed Carry Chinos and Discreet Carry Short Sleeve are stylish enough to blend in to most casual settings. They fit well, wash up well, and most importantly they keep your concealed carry firearm and a reload under wraps. The clothing runs true to size, and I found it does not shrink when washed and dried. I have no doubt the Chinos and Discreet Carry Shirt will hold up to many outings. After all, the black and red check wool hunting gear that made Woolrich famous is still serving hunters today.
Woolrich Elite Series Concealed Carry Chino and Discreet Carry Short Sleeve Shirt Specs:
Chinos
Comfort waist with elastic side panels
3-Ply, dual chamber pocket bags
Inner chamber accessible through invisible zipper and allows for discreet carry option
Outer chamber provides conventional pocket function and reduced printing
Two knife openings
Reinforced crotch
Easycare: machine wash, tumble dry, and cool iron as needed
Fabric: 7.8-ounce 98% cotton, 2% stretch twill fabric
Sizes: Even waist sizes 28–48 inches, inseam even sizes 30–36 inches
Colors: Black and khaki
Price: $59.99–$69.99
Discreet Carry Shirt
Camp collar and straight-cut bottom
Patch pocket with hook-and-loop closure
Side vent system with hidden hook-and-loop closure
Bottom front button is false, held in place with magnetic closure behind the button for easy, rapid access to essential gear on the waist
Back bi-swing venting with polyester mesh for a relaxed feel, even on the hottest days
Easy Care: machine wash, tumble dry and cool iron as needed
Fabric: 3.8-ounce 63% polyester, 37% modal performance blend; UPF30+ QuickDry
Sizes: S–3XL
Colors: Light olive, shale, navy plaids
Price: $49.99–$59.99
Scott Smith is a former federal police officer for the Department of Veteran's Affairs who currently serves as a reserve officer and is a contributing editor to POLICE.