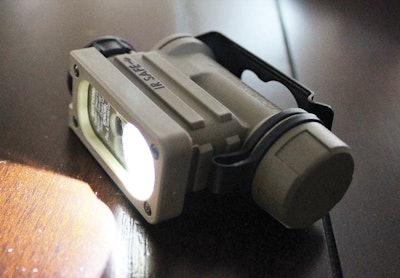 The Streamlight Sidewinder Compact II is, like most of Streamlight's products, a durable and functional illumination tool for the law enforcement or military professional. Coming in at 3 inches long and a mere 2.4 ounces, this is by far the most compact gear-mounted light I've tested, and it packs a lot of features in that small space.
Designed to be purpose mounted for hands-free use, either on a helmet or other gear, this light has four high-discharge LED bulbs that produce more than ample working light. The main bulb is one of Streamlight's C4 LEDs and puts out 55 lumens with a runtime of over 6 hours on the highest of three settings. The other three are red, green, and IR; each providing good, clean light for administrative work and claiming a runtime of up to 16 hours. All of this on a single CR123 battery.
The Sidewinder Compact II is made of high-strength plastic and has a durable metal clip attached. The body of the light rotates independent of the clip more than 180 degrees for aiming and does a good job of staying put once positioned. There are a few accessory mounts that can be purchased separately for special helmet mounting solutions; one clips to the side, one for a rail mount, and a third that can be slid onto a strap. My example came with the optional helmet clip and I was impressed with the ease of application, secure mount, and durability.
Operating the Sidewinder Compact II is easy and very intuitive. There is a single, large rubber push-button on one end of the light that can be easily operated with gloves. The push-button has a rotating bezel that allows the user to select which of the four lights to be activated by simply lifting up on the bezel, turning it to the desired selection, and letting go. The selector is spring-loaded and automatically locks down once released. Every quarter-turn is a different light and the user would have to memorize the sequence to get it right by feel; not too difficult a task. There is even a raised tab at the IR setting to give the user an index point. The white LED has four intensity settings plus a strobe feature that can be chosen by holding down the push-button. The light will cycle through each of the four until the user releases the button, locking in the selected setting.
I've only had this light for a few weeks but it quickly found a home on both my load-bearing vest and my patrol uniform. Its compact size keeps it out of the way and its variety of features have come in handy several times; from clearing rooms to taking notes and filling out paperwork at night. The versatility of the Sidewinder Compact II combined with the quality and value Streamlight is known for have made this little light a big hit with me.
Streamlight Sidewinder Compact II Flashlight Specs:
Batteries: One (1) CR123A size lithium cell (included), AA size alkaline cell or AA size lithium cell
Light Sources: C4 white LED, 5mm blue LED, 5mm IR LED, 5mm red LED, 5mm green LED
Modes: Low, medium 1, medium 2,
high, strobe (all LED colors have a strobe function)
Case Material: High-impact, tough nylon, all openings O-ring sealed
Dimensions: 3 x 1.07 x 2.04 inches
Weight: 2.4 ounces with CR123A lithium battery (included with purchase); 3.3 ounces with CR123A lithium battery and optional helmet mount
Lens: Unbreakable polycarbonate lens with scratch-resistant coating, gasket sealed
Rotation: 185-degree tilting body;
rotates 360 degrees on helmet mount
Clip: attaches to helmet, headstrap, or MOLLE vest; cord attachment hole provided in clip capable of supporting 25 pounds of load
Standards: 3-meter impact resistance tested; IPX7/waterproof to 1 meter for 30 minutes; meets MIL-STD-810F, Method 512.4
Price: $128
A.J. George is a motor officer and firearms instructor for the Scottsdale (Ariz.) Police Department.