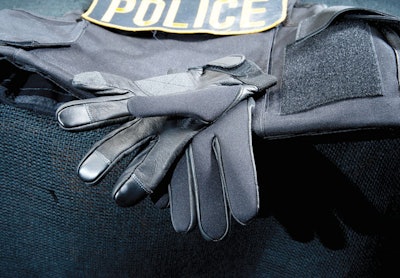 G Squared Consulting's new Connector Series neoprene gloves do what a lot of other leather palmed shooting gloves do; protect your hands. What makes them different is G Squared's proprietary Electrostatic Discharge Protection technology. In simpler terms, these gloves also protect the wearer from electrostatic threats and allow superior connectivity with multi-touch screen devices such as smart phones, tablets, and computer screens. Considering the increased use of electrostatic sensitive and touch screen technology in the realm of law enforcement, G Squared is definitely on the right track.
These gloves are constructed of about a 50/50 mix of durable neoprene on the back and high-grade leather on the palms and fingers. The fingertips are covered with an engineered leather-like material that remains durable yet incorporates the technology that allows for the touch screen connectivity; all while maintaining the tactile feel needed for shooting or other fine touch tasks. The base of the palm has a reinforced patch sewn in for added protection and increased wear, and there is a hook-and-loop strap at the wrist to hold it securely in place.
I wore these on duty and found their initial claim to be right as they work well with touch screens of all types. Smaller screens like those on most smart phones are a little tricky because, after all, these are still gloves and the added material makes precise touches difficult. On laptops they worked very well. Overall I found little difference in the responsiveness of the devices I used as compared to bare fingers.
Now, I know most of us don't buy gloves to operate a laptop. Not to worry. These work well for most other gloved tasks too. As a general duty glove they feel great on the hand and are not at all restrictive, allowing for most routine patrol tasks. The neoprene back is breathable and keeps your hands from overheating during long periods of wear. Weapons manipulation was smooth and the durable palms protected well against heat. G Squared makes no claims regarding puncture or edged weapon protection, although I think the durable construction would provide ample protection from most other threats encountered during a search. Overall, I think G Squared's new Falcon gloves are a great choice for anyone needing a durable, all-purpose patrol glove with the added bonus of touch screen connectivity.
A.J. George is a motor officer and firearms instructor for the Scottsdale (Ariz.) Police Department.
G Squared Consulting Falcon Gloves Specs:
• 4 finger capacitive device usability for touch screen and multitouch screens
• Genuine leather palms provide sensitivity for shooting and searching
• Breathable neoprene back with adjustable wrist strap
• Provides electrostatic discharge and capacitive device functionality, not electro shock weapon protection
• Patent pending directed distributed electrostatic discharge architecture
Size: XS to XXL
Price: $28.99