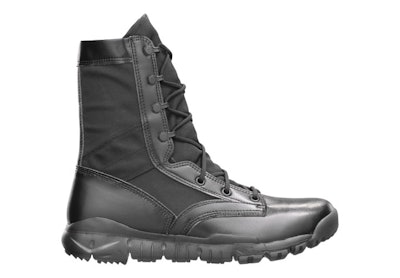 When the editors of POLICE Magazine learned that Nike was planning to market its Special Field Boot—which was designed for military special forces—as a duty boot for law enforcement, we knew that we had to get our hands on a test-and-evaluation sample for review. So we contacted Nike, and asked for a pair of boots. When we did we got more than we bargained for; we got an offer for enough high-top SFB boots to outfit a squad of officers.
And that's exactly what we did. We contacted a team of officers at the Chicago Police Department, got their sizes, and Nike sent them the boots. They wore the new Nike SFBs during 12-hour shifts of crowd control duty last summer and scored them on comfort, features, durability, what law enforcement assignments they would be good for, and value. The following is a summary of their reviews.
Asked to rate the boots for comfort on a scale of one to five, five being best, the Chicago officers gave the boots a score of 4.7. They said the SFBs felt like gym shoes, were lightweight, were easy to break in, had great support, and had excellent breathability.
On the downside, two officers said the SFBs were hot in direct sunlight, one said they offered poor support for the ankles.
But overall the officers said they had no complaints about the boots. One officer even said he hated high-top boots in general, but found the SFBs to be an exception. "Prior to using these boots, I would never have worn such a high boot. High boots are usually very uncomfortable for me and almost impossible for me to run in. These boots were very comfortable, and I was able to run in them almost like gym shoes," he wrote.
With such high ratings for comfort and performance, it's no surprise that the officers said the boots were well suited to everyday police duty. One wrote, "I would wear these boots on tour every day at work." Another added, "To me, these boots can be worn in any type of environmental conditions." Another said, "I would wear these boots everywhere. That's how relaxing and comfy they are."
The officers were also asked to rate the new SFBs on durability. They only wore the boots for a week, but they rated them well made and predicted they would be able to take the wear and tear of law enforcement duty. However, one officer did note that the boots are very lightweight and do not offer much in the way of protection against impact or someone stepping on the wearer's foot.
Overall, the officers rated the Nike SFB boot as a good value. All of them said that they would buy the boots based on their quality and comfort. "They were comfortable, a great fit, and looked nice on my feet," one officer wrote.
Nike Special Field Boot Specs:
• Extremely lightweight at 14 ounces
• Flexible construction
• Fast-drying materials
• Athletic shoe feel
• Kevlar barrier to protect from
puncture
• Sticky rubber lugs
• Directional traction heel
Price: $140