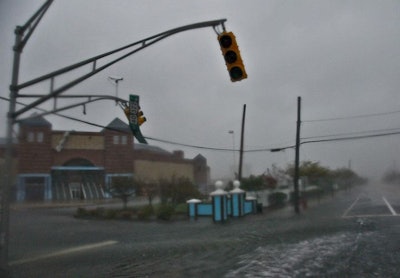 Photo courtesy The National Guard (flickr)
A month has passed since Hurricane Sandy wreaked havoc on New Jersey and New York, and there are 67 federal law enforcement officers who continue to be separated from their homes. A total of 25 have permanently lost their homes, and 42 have been indefinitely displaced due to severe structural or flood damage. These dire statistics are not expected to improve anytime soon.
Nonetheless, all of these impacted officers have continued to carry out their respective law enforcement missions since the storm hit.
As witnessed after Hurricane Katrina devastated the Louisiana and Gulf Coast region, law enforcement officers affected by a disaster are both victims and first responders, not one or the other. This placed a tremendous stress on officers in the region who had to simultaneously take care of their families and damaged homes, and carry out their law enforcement duties. In many instances, officers continued to work 24/7 despite losing their homes.
Law enforcement officers in the New York/New Jersey region are now experiencing the same hardships. To exacerbate matters, insurance claims adjusters continue to deliver bad news regarding policy coverage, and our officers and agents are left with the dire prospect of severely damaged or no residences for the holidays. While storm-impacted citizens avail themselves of FEMA and Red Cross aid, our officers and agents continue to work, including providing protection for these two entities.
In order to help the more than 60 federal law enforcement officers who have been displaced from their homes, our FLEOA Foundation has launched a Storm Recovery fund campaign. The Foundation is enlisting celebrity support with the social media push, and also approaching prospective corporate sponsors for assistance. During our last conference call, the FLEOA executive board agreed unanimously to have FLEOA absorb any administrative costs associated with this fund. While we don't anticipate any above-nominal costs, we want the Foundation to be able to state that all money raised will go to law enforcement officers in need. Very few charities, including the Red Cross, can make this commitment.
Moving forward, we are organizing an online silent auction to assist with the Storm Recovery fund campaign. The Foundation is currently receiving donated product from law enforcement companies, as well as celebrity memorabilia from a variety of sources. While this is encouraging, the Foundation could certainly use additional donated merchandise for the auction. On the FLEOA Foundation Website home page, www.fleoafoundation.org, you'll see information on how to contribute to the storm recovery fund. The Foundation is targeting both individual prospective donors and concerned "business executives."
Please help our displaced law enforcement officers by e-mailing the links to as many prospective sources as you can. If you're social media inclined, please post the links on your Facebook page. If you are associated with any sports or Hollywood celebrities, please consider asking them to donate signed memorabilia. They could also help by tweeting our Foundation's Storm Recovery campaign message.
If you are aware of any companies that are willing to contribute to the Foundation's upcoming online silent auction, please have them contact Bill Hampstead at hampstead@fleoa.org. Bill will ask them to send him a photo and description of the product, and ultimately have them ship the product to the bid winner.
Beginning the first week in December, the Foundation hopes to launch the online silent auction. The Foundation plans to run the overall campaign until April 29, 2013. The storm will cease to be newsworthy soon to the general public, but our brothers and sisters impacted by the storm will remain a priority to us. We don't want any of our heroes hungry or homeless for the holidays. Please help.