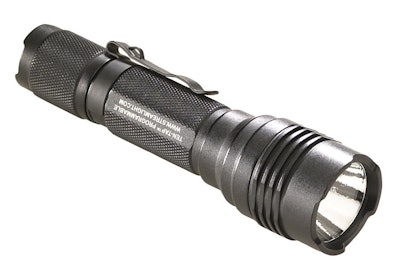 The number of new product offerings from Streamlight has been impressive, especially among its ProTac line of compact handhelds. I've been using the company's newest, the ProTac HL, and after only a few weeks of testing, I'm sold.
This light is made from rugged machined aircraft aluminum with an anodized matte black finish. It's operated by a single rear tailcap push button and equipped with Streamlight's practically bulletproof C4 LED. The light also comes from the factory with two CR123 lithium batteries and a nice nylon pouch that has a loop wide enough to be attached to a duty belt.
If you're familiar with Streamlight's offerings, none of this is much different than the company's previous models. But here's what is. First, the ProTac HL features Streamlight's new Ten-Tap programming that allows the user to select from three light programs: high/low/strobe; high only; and low/high. To select and lock in a pattern, just quickly tap the tailcap nine times, holding it down on the tenth tap. The light will turn off after about one second, locking in the next pattern. You can repeat this process until the desired pattern is selected and, once locked in, you won't have to worry about it accidentally changing.
I am not a fan of the strobe feature on flashlights, so I appreciate the ability to remove that setting on this light with the Ten-Tap programming. This, coupled with the ProTac HL's one-inch body, also renders the light fit for weapon mounting applications. With the light switched to the "high only" pattern, you won't experience the problem of the light intensity changing due to recoil. And you can use the high-lumen beam to disorient and even temporarily blind suspects if necessary.
After playing with Streamlight's new light out of the package for only a few minutes, I pulled my older and much less impressive compact polymer light out of my duty belt and replaced it with the ProTac HL. Having established the features and ergonomics of this light, I was eager to get down to what really counts in a duty flashlight: brightness, runtime, and durability.
First, let's talk about the intensity of this powerful little light. Streamlight claims 600 lumens and 16,000 candela with a runtime of 75 minutes. This means you get an incredibly bright and far-reaching beam of clean white light for over an hour. Running on only two CR123s, this is quite a feat. I did my best to run down the batteries and, after about an hour of total use, the light hasn't lost a bit of intensity. Additionally, after a few weeks of daily duty use and abuse the light still looks new with no signs of wear.
Drawbacks? I don't have much here. I suppose the cost of the CR123 batteries could be a concern for some, but it is difficult to get this kind of performance out of AA batteries. Cost? Not a chance. With an MSRP of $130 this light is considerably cheaper than many of its competitors. In fact, I was able to find several online for much less, making it an even better deal. Warranty? Reputation? Come on, it's a Streamlight; they've been around forever. Incidentally, that's exactly the length of their warranty, so if you ever do have a problem they've got you covered. If you're in the market for a great handheld light I would strongly recommend checking out the ProTac HL.
A.J. George is a motor officer and firearms instructor for the Scottsdale (Ariz.) Police Department.
Streamlight ProTac HL Flashlight Specs:
Length: 5.40 inches
Barrel diameter: 1 inch
Weight: 5.6 ounces with batteries
Light Technology: C4 LED with a 50,000 hour lifetime
Batteries: Two 3V CR123A lithium batteries (included)
Modes:
High – 16,000 candela peak beam intensity, 600 lumens, 1.25 hours runtime
Low – 800 candela peak beam intensity, 33 lumens, 18 hours runtime
Strobe - 2.5 hours runtime
Switch: Multi-function, push-button tail switch for one-handed operation
Ten-Tap Programming: Choice of three user selectable programs: high/strobe/low; high only; low/high
Construction: Durable anodized machined aircraft aluminum, anti-roll head, O-ring sealed glass lens
Water Resistance: IPX7; waterproof to 1 meter for 30 minutes
Accessories included: Nylon holster, removable pocket clip
Warranty: Limited lifetime
Price: $130
Related: