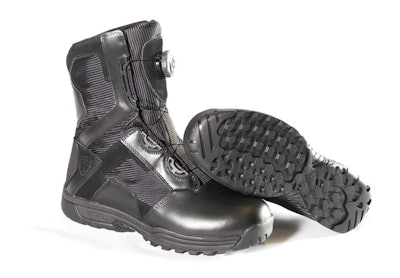 Plenty of companies make boots, but Blauer's first foray into footwear brings something new to law enforcement: the BOA technology snowboarders have been using to securely tighten their boots for decades. This is thanks to Adam Blauer recently moving back to Boston to join the family business. With his background in footwear and snowboarding in California, developing similar boots for Blauer's law enforcement customers seemed like a natural fit.
"The BOA technology involves a dial that you use to close the boot and a braided stainless steel cable as your 'lace,'"says Blauer. "You snap out the dial and that releases all the tension on the cable. You snap in the dial and turn it to reel the cable back in."
A combination of laces and a side zipper is currently the norm for closures on black boots, but Blauer says his solution greatly improves upon this standard, both in comfort and efficiency.
This is because the steel cables are routed through channels that allow them to provide even tension and therefore less friction. "You don't get hot spots, and as your foot flexes, the cable can conform to the flex of the boot," says Blauer. "Laces don't do that; they hold tension in different zones and then loosen up throughout the day and need to be retightened."
When it comes to efficiency, side zippers leave a lot to be desired, Blauer contends. Beyond destroying the aesthetics of the boot, he says "you can't lace the boot as tight as you'd want for support and still get in and out with the side zipper." Instead, the BOA system in Blauer's Clash and Blitz boots can be tightened as much as the wearer likes and then quickly released with a pop of the dial.
"With [law enforcement] boots being taller—some six-inch, some eight-inch—it felt like this was the perfect opportunity for this technology that's already made for getting in and out of tall snowboard boots,"says Blauer.
Knowing officers like to quickly kick their boots off at the end of a shift, Blauer even made sure to add rubberized protection to the heels so they stand up to the abuse. Other parts of this new footwear received similar attention to detail.
The company set out to create a boot for law enforcement from the ground up. That included creating a new last and an entirely new outsole. Running shoes are only designed to move forward, so that design was off the table from the outset. After looking at various sport shoes, Blauer took a cue from tennis shoes and designed the outsole tread and edges in such a way that you can easily move in multiple directions without rolling your ankle.
A combination of lugs and flatter webbing make a hybrid tread that is just as useful standing on the street as it is for running. A rounded heel makes driving more comfortable and grooves on the front of the boot aid in climbing fences.
All boot models have the Blauer last and outsole and a full-grain polishable leather toe. The company's entry-level model is the Clash boot, which will be available in six-inch and eight-inch versions, as well as a waterproof six-inch. The upper is a mixture of leather, suede, and textile.
The higher-end model called the Blitz will only be available in an eight-inch waterproof version. It features more premium materials and slightly different styling. Its upper is made of leather, suede, and synthetic rubber, and a flexible, puncture-resistant midsole board will keep nails and other sharp objects from entering your foot.
Blauer's Clash and Blitz boots are scheduled to be available in the Spring with models ranging in price from $120 to $160 retail, and for less through dealers. The company plans to expand the line with new models in the future.
"It's not an easy thing to get people to look at and really buy into the BOA technology in law enforcement boots," admits Blauer. "But we feel strongly it's something people will be jumping to get on board with pretty quickly."
Related: