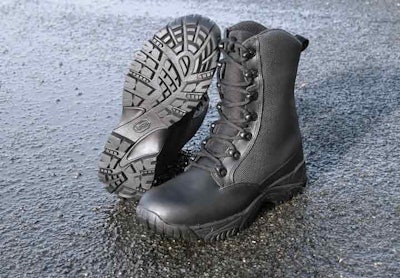 You may have heard of the material SuperFabric, which is used in high-end name-brand and military footwear. Inventor Dr. Young-Hwa Kim figured if it was so well suited to boots, why not use SuperFabric in a boot created by his own company? And thus Altai Gear and the Altai Tactical MF boot were born.
With the support of parent company HDM Inc., the Altai Gear research and development team set to work creating a lightweight boot that took advantage of SuperFabric's high durability, breathability, stain resistance, and abrasion resistance to benefit law enforcement. Other notable features of the new 650-gram, eight-inch Altai Tactical MF boot include a Vibram outsole, a 1,000-denier Cordura tongue, a polishable leather toe, and a lightweight speed lacing system.
"Folks that have been wear testing the boot responded to Hurricane Sandy while wearing them," says Ven Dixit, head of business development for Altai Gear. "They wore them in the snow and they had no issue at all—no freezing, and the snow and ice didn't stick to the boot's upper. This is why SuperFabric is also used in high-elevation hiking boots."
A combination of the SuperFabric quick-drying upper, a gusset, and an internal waterproof bootie helps make the Altai Tactical MF suited not just to snow and rain, but also to wetlands. Wear testers who put the boots through their paces in Florida and Maine commented on the footwear's water tightness and the upper's ability to resist stains after slogging through mud. "This tactical boot is well suited for a wide variety of environments," says Project Manager Mitch Bonnie.
Such versatility is due in part to the boot's sole. A lightweight Vibram outsole with hiking tread provides oil- and slip resistance, as well as stability on the uneven surfaces officers often find themselves on.
Lacing is also an issue that the team approached from a practical standpoint. The design is all about functionality for officers. Strong but lightweight and rustproof metal eyelets have a black matte finish, so they don't shine and bring undue attention to wearers. Included "figure 8" laces have a slight crimp in them every half-inch. "That allows for a nice, tight pull when you're tying it up," says Altai's Ayron Glenn. "It also sticks very well into the two open eyelets at the top for a nice hold. When you bring these two components together, the laces pull tight together."
While durability is important, so is comfort. The Tactical MF boot's EVA insole and padded collar help, but the Altai Gear development team decided it was necessary to change the boot's underlying shape to really make a difference.
"In earlier models, we used standard lasts used in the industry, but we decided that to really take the boot to the next level of comfort we needed to create a custom last exclusive to Altai Gear," says Dixit. "They say in the shoe industry that the last comes first."
Altai Gear is in the process of developing a specific last and sizing for women. But according to the company, women who have worn the current boot model were happy with the fit.
"There's a variety of components in the Altai tactical boot that we think are very favorable, but the overall product is enhanced by its lightweight comfort and the SuperFabric component," says Dixit.
Altai Tactical MF boots are scheduled to be available for sale in the spring for under $200.