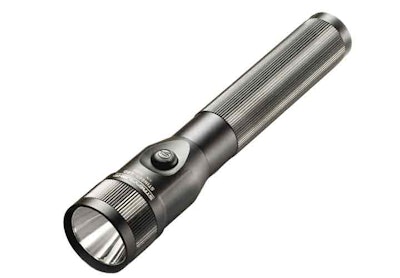 My latest acquisition is the Streamlight Stinger LED mid-sized duty flashlight. I'll have to admit, I'm a little biased toward the Stinger line of lights. I have owned and carried a classic incandescent Stinger for years on duty, and it has never failed me. So when a new Stinger LED showed up at my doorstep I was eager to see how this hard-working little light had evolved over the years.
In the box I found the light, charger, and both the A/C and vehicle adapter cords. I also noticed that, although the light itself has evolved significantly, the charger is the same as the one I have for my original Stinger. This is a huge plus and saves the Stinger-faithful from having to buy new chargers when upgrading to the new light. Also in the box were the manual and instructions, as well as a hexagonal rubber ring designed to fit over the bezel to keep the light from rolling away on flat surfaces.
The light itself has an 8.5-inch aluminum body with a scratchproof polycarbonate lens weighing in at slightly more than 12 ounces. It is water- and impact resistant with a clean black anodized finish. There is a comfortable rubber sleeve over the body for grip and a single actuation button on the base of the bezel with both momentary and constant on capability.
For this Stinger, Streamlight had just upgraded the C4 LED from 180 lumens to a blazing 350 lumens and 24,000 candela on the brightest of three intensity settings. This provides a tight, focused beam with more than ample light for medium to close-range applications and excellent throw out to 300 meters. There is also a strobe function.
I found the Stinger LED, like those before it, to be the perfect size for patrol duty use. The light is small enough to be carried on a duty belt yet large enough to be tucked under an arm while filling out paperwork or conducting field sobriety tests. It is rechargeable so there are no expensive batteries to buy and the quality is top notch. Historically, my only complaint about my classic Stinger was the lack of brightness as compared to some of the smaller LED tactical lights. This is no longer the case with the newest Stinger LED, as it not only far exceeds many smaller lights in brightness but also projected distance.
At the end of the day, you just can't go wrong with the new Stinger LED. You not only get the latest LED technology in a rugged and reliable package, but also Streamlight's lifetime warranty. And speaking of investment, the Stinger LED can be found for a little over $100; much cheaper than some of its competitors. If you're in uniform and need a solid light to complete your duty belt, I highly recommend it.
A.J. George is a motor officer and firearms instructor for the Scottsdale (Ariz.) Police Department.
Streamlight Stinger LED Specs:
• Three lighting modes, including strobe
• 350-lumen, 24,000-candela max output
• C4 LED technology
• 8.41 inches long
• Rechargeable
• Two-hour runtime on high
• Aircraft aluminum construction
• Limited lifetime warranty
Price: $204
Related: