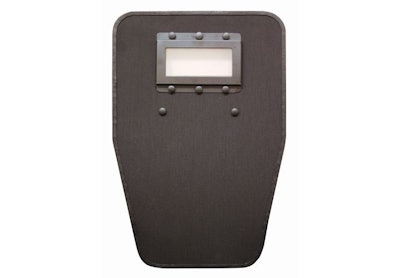 Protech Tactical, a division of The Safariland Group, has introduced its TSI line of Type IIIA ballistic shields, according to the company.
The TSI shields are available in three sizes—20-by-34 inches, 24-by-36 inches, and 20-by-48 inches. They feature a flat design with a low-profile, ambidextrous collapsible handle to provide easy storage. The TSI shields feature a 4-by-10-inch polycarbonate ballistic viewport with a 100% aramid ballistic shield design and durable 1000-denier Cordura nylon outer skin.
The shield and viewport have been independently tested to defeat 9mm 124 gr. FMJ, .44 Magnum 240 gr. LSWC, .357 SIG 125 gr. TMJ, WIN. Ranger 9mm 127 gr. +P+ SXT, and 5.7x28mm 40 gr. SS197/Blue Tip.