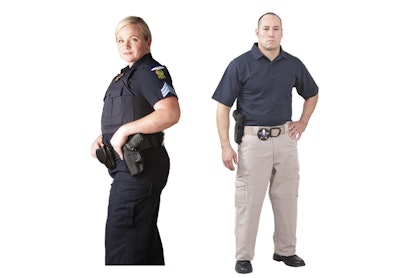 Law enforcement agencies across the country value functional uniforms. As fabric and design technology improve, manufacturers are able to create a more diverse array of products that enhance efficiency on the job.
But with the option of a more advanced uniform comes a question of style as many agencies battle between embracing a more tactical BDU and preserving tradition.
According to Denise M. Czack, president of Her BlueWear Uniforms, "Initially a lot of law enforcers liked the overall break from the more traditional cuts. But ultimately, that traditional uniform has been a symbol of respect since it was styled—since the beginning of time."
Although a shift back to a more professional look might be occurring, many uniform manufacturers are trying to provide the best of both worlds with uniforms that utilize new technology to provide functionality and comfort, but still maintain a classic appearance.
Wearing Armor Externally
For years body armor has been worn concealed underneath a law enforcement officer's uniform shirt. But recently, manufacturers such as Elbeco and 5.11 have received complaints saying that this arrangement compromises comfort.
"Wearing layers upon layers can get really warm and uncomfortable," says J.D. Devine, director of sales and marketing for Elbeco. "And as body armor became bulkier and more heavy-duty, this only worsened. But one of the ways we see officers combating the problem is by wearing armor on the outside of their uniform."
With this observation, Elbeco decided to reverse the current trend by designing body armor that sits externally. However, by doing this, the company was faced with a very pertinent question: How will external armor affect the look of the uniform?
"We are challenged with finding the middle ground," says Devine. "How do we make something as comfortable and functional as a BDU-style uniform but also hold onto a professional uniform look so officers can project the image they want to the public?"
In 2011, Elbeco introduced an external vest carrier—which is a cosmetic outer shell intended to house the wearer's current vest—designed to look like a traditional uniform shirt. "It really is a perfect compromise for agencies who want to wear that body armor externally and didn't want to give up their traditional look," says Devine.
Elbeco is now starting to build on that product line of vest carriers called the V Series, and late last year added an under-vest shirt called the UV1.
Designed to complement V Series vest carriers, the UV1 features traditional embellishments like shoulder epaulets and a convertible or dress collar and additionally utilizes nano-performance technology for comfort. The visible portions of the shirt match the look of a Class A shirt.
The hidden parts of the UV1 are made from a lightweight synthetic performance knit fabric called "featherweight Ufx." Nano moisture wicking and antimicrobial fabric technologies are used to keep the wearer cool while eliminating bacteria that cause odor over time. Flex underarm micro mesh vents offer additional ventilation. The undershirt is available in long- and short-sleeve styles for both men and women. It's now available in navy blue and spruce green.
Lastly, the V Series also features a VSS1 suspension system, which is a pair of concealed suspenders that feeds through the external vest carrier and clips onto the officer's duty belt. It's designed to redistribute the weight of the body armor.
"With this design, the entire upper body assumes that weight, which makes it much more comfortable," says Devine. "The series has a heavy emphasis on performance and functionality without abandoning the traditional Class A look."
In addition to appearance and functionality, another priority for Elbeco was keeping the V1 series system simple. "You can't over-engineer the uniforms to the point where the wearer needs a road map to figure it out," says Devine. "We're sensitive to the priorities of the consumer and we just want to offer effective simplicity."
According to David Hein, strategic business unit director of merchandizing operations for 5.11 Tactical, more and more law enforcement agencies have been contacting the company for outer carriers as well. In August, the manufacturer plans to release its new PDU, which includes a shirt with ballistic panels fit to hold a 5.11-developed vest carrier externally.
Going in a comparable direction as Elbeco, 5.11's PDU undershirt looks like a traditional uniform shirt where it's exposed, but the interior is made from a cotton-spandex stretch material with anti-microbial and moisture management.
The uniform is lightweight, treated with fade-resistant materials, and finished with Teflon for stain resistance. Other features include armpit vents, a mic-cord pass-through, and adjustable cuffs.
"Administrators can have that traditional look that's been there forever, but with new technology," says Hein.
Tactical Pants
Many uniform manufacturers are beginning to notice a growing transition toward tactical pants for law enforcement officers, according to Megan Hegger, marketing project manager for Propper. Wearers are drawn to their flexibility, comfort, and usefulness. Although there is some hesitation among agencies due to their casual style, new and subtle designs can help tactical pants "start to be perceived as a bit more professional," says Hegger.
Propper addresses this concern with its new SLI I Pant from the LS1 Collection. "They don't immediately read as tactical garments," says Hegger. "We've been able to keep them looking professional, clean, and polished but still active."
In the design, Propper moved the traditional cargo pockets higher up on the body and rotated them inward. There are rapid-access ergonomic cargo pockets on the upper thigh as well. This design has a sleeker look and offers better access for the wearer while sitting, standing, or crouching. Additional features include a gusseted crotch, zipper pockets above both wallet pockets, and a hidden stash pocket in the center back waistband.
The SLI I Pant is made from stretch nylon/spandex fabric, which is lightweight and moisture wicking for enhanced agility. "Companies are rethinking the foundational fabrics," says Hegger.
The most popular tactical pant from 5.11, Stryke, was updated last fall using a new proprietary fabric, Flex-Tac. Poly/cotton ripstop is used, which incorporates mechanical stretch yarns.
The pants were redesigned with slanted inset side cargo pockets to provide a sleeker silhouette and a faster look. There are also subtle thigh cargo pockets and two off-seam side pockets. The pants feature a self-adjusting tunnel waistband for comfort, a badge holder in the front belt loops, angled pockets, discreet double knee with an interior knee pad pocket, and stain- and fade-resistant fabric.
"It's a tactical pant with restructured pocketing features and functions but in a mechanical stretch fabric so it bends and moves with you—we find mechanical stretch has better recovery and is much stronger than Lycra or spandex," says Hein.
Blackhawk offers a couple of different options for tactical pants—including Lightweight and LT2—based on the requirements of the purchasing agency. "Uniform customization is key," says Larry Hart Jr., senior product marketing manager, apparel for Blackhawk. "Each agency is looking for a specific fit, color, and function. They are not only looking at uniforms as clothing, but as performance tools to protect the operator."
The company's tactical pants feature multiple pockets and intelligent storage options that allow the wearer to quickly access tactical necessities in multiple places on the leg.
"At Blackhawk, we're prepared for the shift and will have a tactical silhouette to address the consumer requirements," says Hart. "We like the push toward tactical—it provides the operator with a wide variety of movement that traditional uniforms are just not designed to accommodate. Lighter, faster, and stronger seems to be the direction."
Options for Women
An increasing number of manufacturers are creating or incorporating different uniform designs to better accommodate the female body.
Her BlueWear, a new uniform manufacturer exclusively dedicated to serving the female law enforcement officer, is coming out with three traditional uniform cuts per size available in July. After testing their product on 20 women across the country, the company narrowed it down to Streamline fit, Defined fit, and Balanced fit, which support different body types.
"What we've done different is created a safer product by lowering the waist for a better draw and taking the weight off the mid-back; the pants fit like a comfortable pair of jeans," says Czack of Her BlueWear Uniforms. "Our purpose and driving force are to create a safer uniform for women."
Weighing only 10.5 ounces, the pants are made from a lighter polywool blend for a traditional look, but they also offer the option of cargo pockets. "Now people are going back to the traditional look and polywool delivers that," says Czack. "However, agencies want both the standard and a more tactical pant available."
5.11 Tactical recently introduced a new women's uniform pant as well called the PDU Go Pant. After speaking with many industry women about the biggest issues they've found with existing uniforms, 5.11 addressed them with a female-oriented cut.
The pants feature a drop tail to allow women to use the restroom without removing their duty belt. According to Hein, in addition to creating a safer environment where women can keep their weapon on them at all times, it also helps cut downtime by 40% to 50%.
Related:
PHOTOS: Best Dressed Law Enforcement Officers
Uniform and Tac Pants Manufacturers