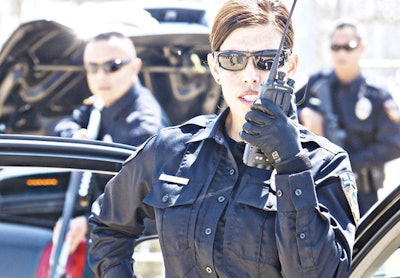 It's often said that clothes make the man.
It's also true that clothes make the female police officer.
But ill-fitting uniforms designed to fit a man's body rather than a woman's do more than just create a disheveled appearance. They also hamper a female officer's ability to do her job.
For instance, men's pants typically have a longer rise putting the waistband—and thus the duty belt—above the natural waistline. This creates an awkward angle when a female officer reaches for her gun and can delay reaction time.
In recent years, uniform companies have begun to recognize the need for clothing designed for the nation's estimated 111,000 female police officers. When it comes to police uniforms it's no longer a man's world. Today's female officers have an array of uniform choices they never had before.
Uncomfortable, Unattractive, and Nonfunctional
"In the past women had two choices: They could wear a very high-waisted, darted pants pattern from the 1970s or they could wear men's pants," says Shannon North, vice president of design at Nashville, Tenn.-based VF Imagewear, which makes Horace Small uniform wear. "Women were overlooked for a long time because they made up 10 percent or less of the market."
While men's pants proved more comfortable and often more flattering than those designed for women at the time, these pants often fit women's hips but didn't fit their smaller waistlines. Women either altered the pants to fit their narrower waists or they cinched the extra fabric with a belt and dealt with bunching fabric at the waist and below the zipper. "It was still uncomfortable but not as uncomfortable as a pant that went up to their rib cage," North says.
Beyond comfort the pants caused the duty belt, which can weigh as much as 12 pounds when fully loaded with equipment, to rest uncomfortably either on the hips or right below the breast bone, but not on the natural waistline where it should be. "There's been some recognition that some of the back problems female officers experience may be caused by the duty belt being too high and that can be addressed by making sure the duty belt sits on the natural waist," says J.D. Devine, director of sales with Elbeco.
The higher rise of a man's pant also contributed to problems with body armor fit. A properly fitted ballistic panel should be 2.5 inches from the top edge of the duty belt when standing and no higher than the second button on the uniform shirt. When a pants waistline is too high a female officer's body armor is measured incorrectly. "And if the body armor is too high, the lower vital organs aren't protected," says Devine.
As noted in the opening example, problems also arise when the duty belt sits too high. This means the holster and thus the weapon are also up too high. "It then becomes an unnatural reach to grab your weapon," says Devine.
But with women making up about 15% of the thin blue line and even more in the corrections market, manufacturers in recent years have recognized the need for uniforms designed specifically for women. Companies like 5.11 Tactical, Blauer Manufacturing Co., Elbeco Inc., V.F. Imagewear, and newcomer Her Blue Wear Uniforms of Shaker Heights, Ohio, have added uniform lines designed specifically for the female body.
"If you look at the retail market, you see that women do not buy the same fabrics and styles as men," says Ali Blauer of Blauer Manufacturing Co. "They have different bodies so there needs to be a different uniform."
Pushing Pants Forward
Companies have scrapped their pants patterns to come up with new ones designed to fit a female's hourglass shape. VF Imagewear looked to the retail markets when considering pants changes, and learned much when touring its Lee manufacturing facilities.
VF Imagewear modeled the waistband construction of its women's uniform line after Lee's Invisible Flex Comfort Fit Waistband, which moves with the wearer. "We came up with a 360-degree function fit waistband and the entire waistband stretches," North says. "We cut the fabric in such a way that even if the fabric doesn't have stretch it allows give so a woman can put the waistband on her body as high or as low on her torso as she wants. She can move the waistband up or down a half inch."
The fabric has to be cut differently to allow stretch because women seek the stretch common in retail pants offerings. "Women need a lot more flexibility when it comes to comfort and they don't always get that when they wear a uniform," notes Blauer.
One reason is the law enforcement industry specifies the fabric that may be used. "Our industry is highly specific when it comes to the fabric manufacturers can use," North explains. "You can't add Lycra to 65-35 poly-cotton fabric and meet specifications for uniform wear."
5.11's tunnel waistband also moves with the wearer. "We do not build stretch into the actual fabric," says David Hein, director of strategic business units at 5.11 Tactical. "Lycra and Spandex tend to degrade over time and don't have the recovery." 5.11 plans to introduce women's uniform pants with mechanical stretch built in, which will provide the 8% to 10% stretch found in pants that are 97% cotton and 3% Spandex.
New pants offerings for female officers also incorporate a lower rise than that of a man's pant. For instance, Blauer has lowered the rise of its women's uniform pant to fit at a female's natural waist. They company is also adding a contoured comfort stretch waistband that mimics a woman's shape by curving in the back. "Doing this provides more flexibility," says Blauer. "We've tested this fit on a number of women in many different sizes and we're slowly transitioning this into our product lines, some of which are already on the market."
Pants sizing is changing as well. Hein recalls how a female officer when asked her size told him 28x30. "I said, 'That's a man's pant size. What size do you wear in women's clothes?'" he says. "She said, 'You mean like the pants I buy at the store?'"
Traditionally women's uniform pants were based on men's sizing, but 5.11's Patrol Duty Uniform (PDU) pants come in women's sizes. "We offer Misses sizes from two to 20 and women's sizes from 16 to 28."
Shirt Adjustments
"Men's shirts tend to be very straight down and too fitted at the bottom, so if a woman puts on a man's shirt, she can't pull it down as far as she would like because women's bodies are curvy," says Blauer.
A man's shirt also has larger pockets, which when coupled with a higher-rise pants, would tuck into the waistband of the pant, making it impossible to carry a ticket book or other equipment in those pockets. "Especially in petite women, they've lost the functionality of those pockets and it looks ridiculous," says North. "They are supposed to be a commanding presence and this looks anything but."
The longer cut of men's shirts also caused problems because that extra fabric had to be tucked into the pant. "They wound up with bunches of fabric being tucked into the waistband of their pants," Devine says. "Even if you cut the shirt closer to their size, you still had a shirt that was way too long and not tapered enough at the waist. We designed our shirts specifically for a woman's body."
While many unisex shirts remain on the market, the industry is shifting to shirts designed specifically for women, starting with the sizing. Instead of an officer having to tell a uniform distributor her chest size, she can now come in and ask for a women's size, such as an eight or a 10 or an alpha size such as X-small, small, medium, large, or X-large.
"A woman's shirt needs to be more tailored," adds North.
Newer shirt designs have an hourglass shape designed to fit a woman's curves. "The shirts are wider in the chest, come in at the waist a little bit, then come out at the bottom," says Blauer.
Manufacturers now recognize that sleeves need to be shorter as well. "In the past, women's shirts had the same sleeve length as the men's," Devine points out. "We also got rid of a lot of excess material in the underarm area."
The shirts also offer a more tailored appearance, adds Hein, who notes 5.11 has modified the stitched-down creases in the front of its PDU shirts. "When these creases run down a man's chest, they go straight down. We don't want that same look on a woman," he explains. "We modified how the shirt looks to accommodate a woman's body shape. You still have a uniform appearance but the modifications give a better aesthetic on a female officer. The shirts look better, fit better, and are a lot more comfortable than women's shirts traditionally have been."
Back to the Future
The end result of manufacturers' work is a uniform that looks just like a man's uniform but is designed for a woman.
"In the past the uniforms women wore didn't give and constantly had to be adjusted while women were on duty," says Blauer. "Female officers didn't have the range of motion they needed, and this job calls for a greater range of motion."
When their life is on the line, female officers should not have to worry about adjusting what they're wearing. With today's uniform choices they no longer have to.
Ronnie Garrett is a freelance writer based in Fort Atkinson, Wis.
Duty and Casual Uniforms for Women
Related:
BlackHawk's Women's Apparel Line