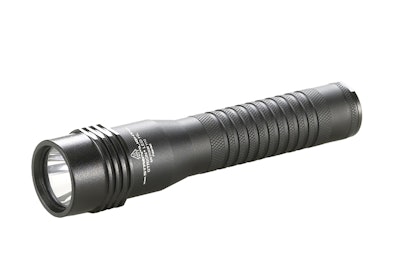 Streamlight is at it again with new offerings of the company's "HL" version of rechargeable flashlights. The Streamlight Strion LED HL made its debut recently and features, among other things, upgraded LEDs over the previous generation that produce a blinding amount of light in a very compact package.
This little light is built to the standards Streamlight is known for: machined and anodized aircraft aluminum with seals for IPX4 water resistance and simple, robust tailcap controls. This is a rechargeable light with a claimed runtime of one hour on the brightest of three settings and more than three hours on the lowest. Streamlight's rechargeable Lithium Ion technology uses "regulated runtime" so your light will lose power quickly at the end of the battery's life rather than dimming gradually over time. This lets you get the light's full potential through almost the entire charge.
What impressed me most was the brightness and beam; here is where the Strion really shines (no pun intended). The little C4 LED filament produces 500 lumens and 10,000 candela on the highest setting. This translates into a beam that is not only tight and super bright, but will project over 200 meters. All of this out of a light that is under six inches long and weighs a mere five ounces, the perfect size to fit on a duty belt or even in your pocket in a plainclothes capacity.
This light is a solid choice for duty use and I've never questioned Streamlight's quality. It is tough to beat the company's prices and limited lifetime warranty as well. We all know the value and importance of a good flashlight, so if you're in the market for a great rechargeable I would highly recommend giving the Strion LED HL a hard look.
Streamlight Strion LED HL Specs:
Switch: Multi-function on/off push-button tail switch
Modes: Three lighting modes and strobe
Technology: C4 LED with 50,000-hour lifetime
Battery: Lithium ion battery rechargeable up to 1,000 times; fully recharges in 3 hours
Construction: 6000 series machined aircraft aluminum with anodized finish
Lens: Borofloat high-temperature glass lens
Water Resistance: IPX4
Impact Resistance: 2-meter impact resistance tested
Length: 5.9 inches
Weight: 5.2 ounces
Special Features: Anti-roll head, grooved barrel adapts to long gun mount
Price: $259.23
A.J. George is an officer with the Scottsdale (Ariz.) Police Department currently assigned to the advanced training unit as a firearms and tactics instructor.