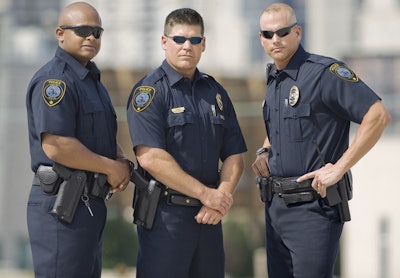 With increased heat in the summer months, law enforcement uniform manufacturers are creating products specifically for the season or adjusting their current products to be used universally. Many uniform manufacturers agree that the fabric, style and performance are all contributing factors to why officers should opt for a different uniform during the summer.
"No one uniform will work for all four seasons," says Blackhawk Brand Director Chuck Buis.
Switching uniforms depending on the season is best for mobility and for immunity, according to Alexandra Blauer from Blauer Manufacturing. "In the colder months officers need layering. In the warm months, they need to lighten their uniforms up and stay cool."
Maintaining appearance without risking the officer's health or limiting performance are important aspects to consider when selecting a uniform.
"They (uniforms) need to allow officers the ability to be as comfortable as possible without compromising performance, durability, appearance, and protection," says Al Otero, Elbeco's marketing communications manager.
Focusing on Fabric
The new Generation Stretch line from Horace Small is a comfortable option from the company for officers this summer, according to Merchandising Manager Rachel Heffington. It is made up of 74% polyester, 25% wool and 1% lycra. The added lycra in the new Generation Stretch line provides officers with extra comfort and mobility.
The Generation Stretch shirt is woven in a tropical weave—which is a more open weave—that allows for more air to flow through the garment to keep the officer cooler. The wool also acts as an insulator to keep officers cool in the summer. The garments are sold into warmer climates due to the tropical weave and natural cooling properties of wool.
"All officers want to be as cool and comfortable as possible," Heffington says. "When the officer is comfortable he or she is able to perform the job functions better."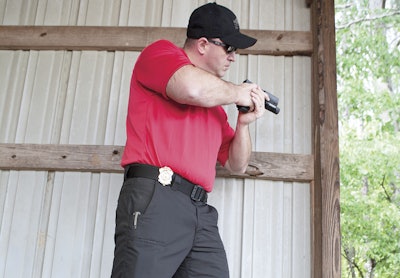 Heffington recommends the New Generation line for the summer vs. a polyester uniform. "It will retain color much better than a poly/cotton uniform and will keep you much cooler than a 100% polyester uniform," Heffington says.
The material, design, function, durability are equally important in a uniform, according to Heffington. "It is imperative that the design of the uniform, from fabric to features, function in a way to enable the officer to perform all aspects of his or her job."
Blauer has incorporated breathable fabrics and mesh into a lot of its traditional uniform shirts, such as the SuperShirt. The SuperShirt looks like a traditional uniform shirt, but contains moisture wicking mesh panels on the sides and under the arms that allow the officer to get more airflow to cool down easier.
"We also focus a lot on fabrics, as a moisture-wicking, lightweight and breathable fabric is going to keep you cooler and drier in the hot weather," says Alexandra Blauer.
Blackhawk uses lightweight material for its garment that breathes better and is not so heavy in that officers would be uncomfortable wearing it. The company specifically uses light-weight material and incorporates Dri-Fit technology into the garments for moisture management.
Her BlueWear Uniforms also includes features that will carry the wear of its pants, which are designed for women, into the summer. Available in both Class A and Class B options, the pants are made of 10.5-ounce Poly/Wool Gabardine that allows for better breathability. During the heat, the anti-microbial fabric will help fight bacteria and odor.
"The poly/wool fabric creates a better quality pant than polyester, which is a lot heavier," says Denise Czack Her BlueWear Uniforms' president. "The material is light enough to wear in the summer and it doesn't add to the 30 pounds of equipment officers are already carrying."
Style, Fit, and Comfort
The 24-7 Series Performance Polo short sleeve polo shirt is Tru-Spec by Atlanco's most popular summer product. It's made with Tru-DRI Moisture Wicking technology and offers 50+ Certified UV Protection from the sun, as well as an anti-microbial protection, to keep officers cool and comfortable. It also features a no-pill/no-snag fabric, which adds to the durability and lifespan of the shirt.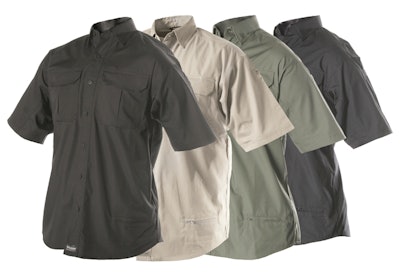 Blauer also says its polo shirts have become a popular alternative to the traditional short sleeve uniform shirt during the warmer-weather months. Using a combination of lighter and heavier wicking materials, the Blauer polos are built for both durability and cooling.
Her BlueWear Uniforms also offers different styles of warm weather apparel to fit more body types, such as a Streamline fit, Balanced fit and Defined fit for both styles of its pants. "The fit is very vital as officers who feel good, perform better," says Czack.
High-Tech Fabrics
Blauer developed B.Cool products such as the Performance Polo and Performance Cap for warm weather. "They are made of moisture wicking, quick dry, lightweight, and breathable materials," says Blauer.
In addition to B.Cool products, Blauer's summer line includes the ArmorSkin system with ArmorSkin Base Shirts. ArmorSkin addresses the problem of staying cool while wearing body armor under a uniform shirt by allowing officers to wear fewer layers of hot fabric while maintaining ballistic protection.
ArmorSkin is worn outside of the base shirt, as opposed to being locked under the uniform shirt. "The ArmorSkin System is much cooler than conventional undercover vests," Blauer explains. "It can be taken off several times a day during a shift in the station and can be partially opened to help cool the officer while driving. The use of ArmorSkin also allows officers to wear duty belt suspension under their vests, which takes weight off of their shoulders."
Both the ArmorSkin and SuperShirt improve the officer's range of motion by using lightweight and flexible materials. The ArmorSkin Base Shirt is made of breathable performance fabric, as well.
Elbeco makes a vest carrier that fulfills officers' needs for protective gear to be lightweight and breathable while offering the same durability, protection and comfort they have come to expect. Similar to ArmorSkin, it is designed to be worn on the outside which makes it more comfortable to wear.
"Wearing a protective vest concealed is very uncomfortable, especially during the hot summer months," says Otero. "In some cases officers choose not to wear a concealed protective vest because it is too uncomfortable—and as we all know a protective vest only works when you wear it."
Available in 17 stock sizes, Elbeco's V2 External Vest Carrier features interior shoulder openings under straps for easy insertion. It is made with Nano Fluid Repellency and anti-microbial technology. It is a match to traditional shirts to not disrupt a professional appearance.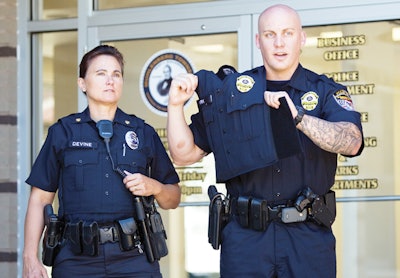 "The seasons and their conditions put specific stresses on the mind and body and uniforms and protective gear that mitigate and limit those stresses allow officers to perform better," says Otero. "A safer, more comfortable officer is a more productive officer."
Other Options
One hot weather option that Blackhawk offers is tactical shorts for officers who have the option to wear shorts. The company makes lightweight tactical shorts that are ideal for bike patrol and other officers who are authorized to show their legs. The shorts contain multiple pockets that give officers the ability to carry items on-hand when they do not have access to store them in a patrol unit.
The companies contacted for this story say they will continue to offer seasonal options for law enforcement personnel to be comfortable in all climates, including the extreme heat of summer. Most believe that technology and innovation will help officers look sharp and stay cool.
"The key to a great looking and fitting uniform are in the dozens of details that go into making it work," says Alexandra Blauer. "There is no one detail that outweighs the others. The most important thing is to get all of the details right all of the time."
For More Information: