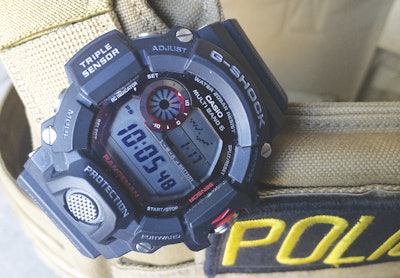 As long as I've been an officer I've had a Casio G-Shock watch on my wrist. It is probably the only piece of gear that hasn't worn out or been replaced by something "better." They're tough watches and I've never been afraid of getting mine damaged, no matter what I threw at it.
The folks at Casio recently sent me one of their newest G-Shock watches, the Rangeman GW-9400. My first impressions were, "If Batman wore a watch, this would likely be it." It's a large watch made of matte-black plastic with brushed stainless steel buttons to control its myriad functions. The back-lit display is complex but well laid out and easy to read and covered by the typical G-Shock tough plastic screen protector.
This thing is cool, plain and simple, and I would've been content sporting it around just to tell the time. My curiosities got the better of me though and I wouldn't have been doing the Rangeman justice if I hadn't checked out all of the other functions Casio had packed in this amazing little device. Telling time? It does that, and a whole lot more.
The GW-9400 isn't as much a watch as it is a wrist-mounted computer. It has the standard clock and stopwatch functions found on almost all G-Shocks but raises the bar by adding an altimeter, barometer, compass, thermometer, alarm, countdown timer, and a memory function to log all of this info should you need it. All of this capability is intimidating at first but the Rangeman comes with a 14-page PDF operations guide to walk you through it. After only a few minutes of skimming I was able to use everything without any trouble and with a little practice I'm sure I could be running this thing like a pro.
Powered by sunlight, the Rangeman is an atomic timekeeping watch, meaning you don't have to set the time no matter where you are. The watch has an internal antenna that picks up signals from the atomic clock and calibrates automatically. If you change time zones, so does the watch. So even if you don't know where you are, the Rangeman does.
Wearing the watch on a daily basis I found myself constantly playing with its variety of features and testing the Rangeman's accuracy. I have another watch with similar features I've had for several years I used for comparison and found the GW-9400 to be spot-on at all times. Working the functions is easy thanks to an easily read display and large buttons. I took it out to the range and was able to use the stopwatch function easily even while wearing shooting gloves.
As a daily duty watch it worked out well, but I found it to be a little on the large side, especially when wearing a long-sleeved uniform. This big fella won't tuck neatly under a sleeve-cuff so be prepared to roll your sleeve up a bit to make room. However, if you have a need for all that it does, the size is nothing compared to the amount of technology packed inside.
If you're looking for a bag of outdoor gadgets that fits neatly on your wrist, the Rangeman GW-9400 is what you're looking for. From hunters and campers to tactical teams and snipers operating in an open, outdoor environment, this G-Shock fits the bill. With an MSRP of $300, this is a great value considering it'll likely be on your wrist for years of trouble-free service.
A.J. George is a sergeant with the Scottsdale (Ariz.) Police Department currently assigned to the advanced training unit as a firearms and tactics instructor.
Casio G-shock GW-9400 Rangeman Watch Specs:
• Multi-Band Atomic Timekeeping
• Tough Solar Power
• Shock Resistant
• Mud Resistant
• Water Resistant to 200M
• Low Temperature Resistant
• Altimeter
• Digital Compass
• Thermometer
• Full Auto LED Backlight with Afterglow
• 1/100-second stopwatch with direct access
• Full Auto Calendar (Pre-programmed until the year 2099)
• Dimensions of Case: 55.2 x 53.5 x 18.2mm
• Weight: 93 grams
• Price: $300