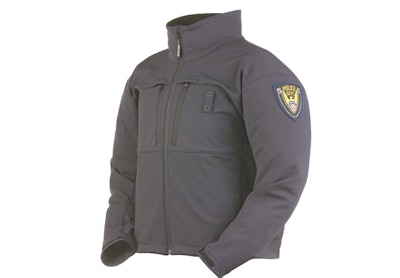 When you think of waterproof clothing, the name Gore likely comes to mind. The original GoreTex fabric has evolved over the years to be lighter, stronger, and more water and wind resistant. Forum Industries is doing some wonderful things with Gore fabrics and its latest line of protective duty clothing is nothing short of impressive. My example was the company's R521 Windstopper Patrol Soft Shell in the "IKE," or above-the-belt cut.
The R521 is a simple and clean jacket with four vertical-entry pockets; two on the lower sides and two on the upper chest. The waist is heavy-duty elastic and the hook and loop straps on the sleeve cuffs keep everything secure. The pockets and front are LenZip water resistant zippered closures to keep your gear in and the elements out. The collar on the R521 is high and zips all the way to the top to provide neck warmth and added wind protection without being restrictive.
Forum designed its latest line of jackets to be something you put on and leave on for the entire shift. The fabric is lightweight, soft, and breathable, making it the kind of comfortable and nonrestrictive outergear you won't be in a hurry to shed once you're out of the elements. This is what I would call a medium to lightweight jacket with Gore's Windstopper technology in the shell and a soft microfleece lining for warmth.
I wore mine for several nights on patrol when the temps dipped way down to the 40s. (I live in Arizona and that's about as bone-chilling as it gets.) With my long-sleeve uniform shirt and body armor the jacket provided just the right amount of insulation and protection to keep me warm throughout the shift, no matter if I was at my desk or out on the street. Forum claims the R521 is good for "light precipitation" but that may be an underestimation as I wore mine in a steady rain for about 20 minutes and didn't feel a drop. Over the couple of weeks I wore my R521 it performed as advertised and remained wrinkle free and showed no wear.
The R521 is available in all the standard uniform colors: black, blue, brown, and OD green. It can also be had in either standard length or an above-the-belt cut starting at $175. To make it truly uniform, Forum will heat-seal your agency's patches and insignia onto the jacket for you at no charge so you don't give up the water resistance by stitching them on yourself. Think you need a little more or a little less wind, rain, and cold protection? Forum has you covered with its full line of duty gear from the X520 Lightweight Patrol Shell to the XP520 PrimaLoft insulated jacket.
A.J. George is a sergeant with the Scottsdale (Ariz.) Police Department currently assigned to the advanced training unit as a firearms and tactics instructor.
Forum Industries R521 Patrol Soft Shell Jacket Specs:
• Water-resistant closure and pockets
• Epaulets
• Agency patches and emblems
• Badge tab and/or mic holder
• Zippered side-slits for holster access (on standard length only)
• Adjustable wrist tabs
• Bottom hem draw cord adjustment (on standard length only)
• Fabric: Windstopper from W.L. Gore
• Length: Ike or standard
• Colors: Navy blue, black, brown, OD green
• Price: $175 to start