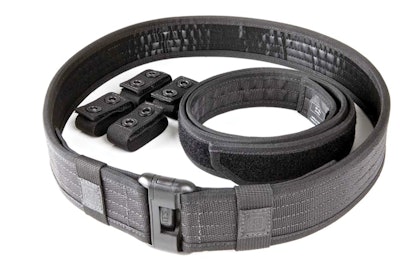 Very few people spend much time thinking about the design and engineering of something as common as a belt. As long as a belt holds up a person's pants or in the case of law enforcement officers holds necessary gear, most of us pretty much don't give it a second thought.
But that's not true of the design team at 5.11 Tactical. For a couple of years now, they have been thinking about how to make a belt better, specifically a law enforcement duty belt.
Joel Alarcon, 5.11's strategic business unit director for footwear and nylon, says development of the company's new Sierra Bravo Duty Belt was spurred by a request from an overseas law enforcement agency for a nylon duty belt that was lighter than comparable models and innovative.
Which is a tall order. And it was made even more difficult by the client's request that the belt be inexpensive.
One of the greatest problems that 5.11 experienced in meeting this demand was determining what could be made innovative about a duty belt. "The look and feel of a duty belt is pretty well defined," Alarcon says.
Given the limitations of what could be improved on a duty belt and still meet muster with law enforcement commanders for a uniform look, 5.11 decided to focus on the buckle. Specifically, the goal was to make the buckle smaller and give officers—especially officers with waist sizes 30 to 34—more available space on their duty belts.
The new 5.11 Sierra Bravo Duty Belt features the company's Slide Lock buckle. The patent pending Slide Lock is narrower than a standard duty belt buckle. "Our Slide Lock buckle is about 1.75 inches wide and typically some of our competitors have buckles that are 2.5 to 3 inches wide," Alarcon says.
The advantage to a slimmer buckle is that it allows officers to use more keepers. "Smaller waisted officers can use three or four keepers with the Sierra Bravo Duty Belt vs. one or two with a traditional belt," Alarcon says. "Having those extra keepers gives the officer a more secure connection between the inner and outer belt, which gives them better mobility and agility. Historically, these officers had a problem with the outer belt wanting to detach from the inner belt."
Smaller size is not the only aspect of the Slide Lock buckle that makes it innovative. "The Slide Lock provides both great security and simple detaching," Alarcon says. "It has one single point of release vs. three points of release like most duty belt buckles."
The Sierra Bravo Duty Belt is constructed of 1680-denier ballistic nylon, which is backed with two layers of webbing for rigidity and a coating for moisture protection. It is available now at a list price of $54.99.
Alarcon says 5.11 is planning to expand the Sierra Bravo line beyond the nylon duty belt. "This is really our first foray into the duty belt arena, and the reaction so far tells us that officers will request other iterations. So we are exploring the idea of producing the belt in different versions, including leather, patent, and basket weave," he adds.