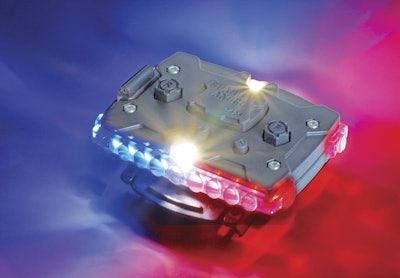 Every once in a while a new "gadget" comes along that makes me scratch my head. OK, it is more often than that, but for every 10 new ideas that come across my desk, there might only be one that I feel has merit. A few months back one of these new gizmos, dubbed the "Guardian Angel" from 425 Inc., arrived, and once again I was a little puzzled.
Before I explain what it does I need to describe what it is. The Guardian Angel is a slim-profile, personal LED light system, designed to be mounted to virtually anything thanks to the variety of accessory mounts. It is rechargeable, very durable, and available in a variety of colors and light patterns. It is a little wider than a deck of cards and only slightly heavier but provides a ton of bright light. Confused? Stay with me here.
The version 425 Inc. was gracious enough to send me featured the magnetic mount option with a row of red and blue LEDs on each side (front and back) that wrap around the sides, with a single white LED in the center of each. There are two additional white LEDs above the aforementioned two that face up for additional visibility. All of these lights are operable in a few different ways via five durable, rubber-clad buttons.
The red and blue LEDs have an alternating flash pattern and can be operated one side at a time or both sides at once (first two buttons). This could be useful in crowd or traffic control situations or even as a small "light bar" for officers on bicycle or horseback. The single white LED (third button) can be activated alone as a reading light or paired with the flashing red and blues for added effect. The fourth and notably largest button activates everything at once in a circular flashing pattern. This would be ideal as a "distress signal" for officers in large crowd situations or even those working in a search and rescue capacity. Button number five allows the user to choose between two levels of intensity for everything above.
425 Inc. offers a belt clip, shirt clip, bike mount, window mount with suction cup, or a magnetic mount to accommodate almost any mounting application. After playing with the Guardian Angel for almost a month I noticed a few things. First, the battery was still going strong, and considering I dropped it more than once, the durability was obvious. And second, my initial confusion as to what the Guardian Angel was supposed to be wasn't because it didn't serve a purpose, it was because it serves several.
If you are an officer or even an agency with a need to add bright, durable, rechargeable, and extremely versatile emergency lighting to almost anything I strongly suggest you pick up a few of the Guardian Angel systems and put your imagination to work. It'll likely solve more than one of your lighting needs.
425 Inc. Guardian Angel LED Light Specs:
Visibility certified up to 2+ miles utilizing LED lights rated up to 930 lumens per LED
Multiple lighting functions for front, rear, and nearly 360-degree visibility
Easily accessible
Sealed, rechargeable battery for up to 93 hours of continuous use
Water resistant, durable
Medical card included with every unit
Weight: 6 ounces, approximately
Price: $199.95