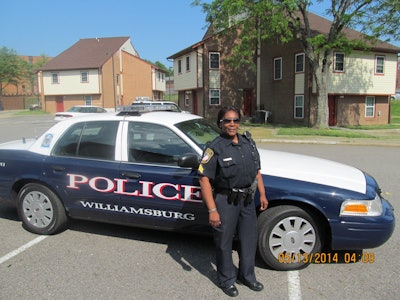 Williamsburg, Va., is a town unlike any other in the United States. With a population of fewer than 15,000, Williamsburg exists as both a recreation of a Colonial America capitol city and as a 21st century tourist attraction complete with theme park.
Criminal activity on the historic streets of Williamsburg where actors portray colonists, slaves, and indentured servants and speak in the manner and diction of 18th century Americans is minimal. But the restored Colonial capitol does not exist in a vacuum. It is surrounded by contemporary America and patrolled by a contemporary American law enforcement agency that does its best to ensure that visitors have a safe and pleasant experience and is responsible for much more than escorting miscreants to the restored "Public Gaol" or locking them in the stocks.
POLICE Magazine sent frequent contributor Kristine Meldrum Denholm to Williamsburg to observe local police operations. This is her report.
Sgt. Kim Hamilton of the Williamsburg Police Department is deep into her 12-hour shift in this tourist enclave when she hears on the radio a suspicious person possibly casing a hotel. The manager reports he's walked through the hotel and parking lot, taking pictures of its business center. Workers confronted him. He became angry when questioned and left. She turns the car around, and within one minute she's at the scene. Two officers are talking to the owner and employee. Hamilton goes to nearby apartments where a resident she's established a rapport with tells her his friend was just accused.
Minutes later, all three officers are talking to his roommate, asking for his license. "It's ok, sir, it's ok. We just need you to step outside; the manager has something to tell you."
He walks down the stairs into the parking lot, where the hotel owner tells him to never appear on their property again.
"OK, sir? If you go back to the hotel, you will be charged with trespassing," an officer says, making sure the man understands the warning.
He heads back into the apartment as the cops trade notes.
Sgt. Hamilton gets back into the cruiser, her calm demeanor clearly helping to win the man's cooperation. "But the whole time he said 'Let me get my license,' I'm watching his hands," she says.
A former NYPD cop, Hamilton moved to this quiet Tidewater community more than 15 years ago after her child waited for a bus in New York next to a dead body. "[Kindness] is a way of life here. This city cares about its residents, tourists, and students," she says.
Hamilton loves working in Williamsburg, a town of 14,000 residents--plus College of William and Mary students--which sees 2.25 million visitors over the course of a year. The city of dorms, hotels, restaurants, shops, and homes, attracts tourists who walk an 18th century colonial village on Duke of Gloucester Street.
Yet as quaint as this town seems, Hamilton knows keeping it safe means responding to hotels. As if on cue the dispatcher radios the news that a 14-year-old has suffered a concussion while diving at a hotel pool. She's also already driven through a public housing complex two miles away today, waving to a man mowing the lawn and a woman walking with a toddler on her hip. "They know each other here, and they know me," she says.
"We're proactive so when we're reactive it works because they know us. …I know the families and different generations and they know they can come and talk to one of us," she says.
"Williamsburg is a safe town, but there's no place that has no crime," says Lt. Greg Riley, the Williamsburg PD's public information officer. The town's officers take frequent calls on lost and stolen wallets/purses, phones, and theft from cars. They also encounter domestic incidents. "Visiting a city has its' stresses, so it's a universal problem. You have problems at home; you go on vacation and have problems here," Riley explains. Add in some noise conflicts between off-campus students and residents, and violations by international students working at the Busch Gardens theme park who must learn the laws here, plus crowds of thousands for July 4 and Grand Illumination (holiday kick-off) events, and you can see why Williamsburg's small police force is so committed to proactive policing.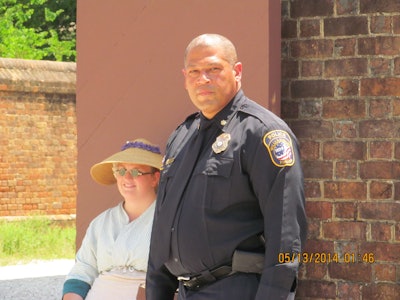 "A lot of violations that might not get charged in some places will get charged here. Like drunkenness in public. So it maintains order in the community," says Riley. "We're very aggressive. Officers are actively looking for problems, and then will solve them. If we see a suspicious person, we want to talk to them. If we see someone who's intoxicated, we talk to them. It's our way of protecting everyone, not just the tourist."
Kristine Meldrum Denholm is an award-winning freelance journalist based in Washington, D.C., and a frequent contributor to POLICE. She wrote for ATF's press office for 10 years.
Related: