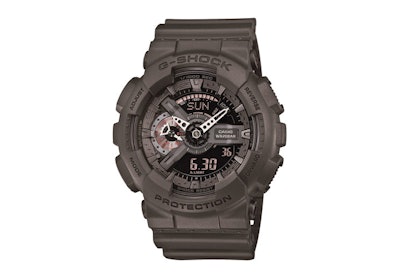 Casio's ever-expanding line of bulletproof G-Shock watches are to a cop's wrist as a Glock pistol is to his or her holster. It's nearly impossible to beat their price, reliability, and function. I picked up my first one over a decade ago and it is still running strong.
Recently Casio expanded its G-Shock collection with four subdued models dubbed the Military Black line. All four of these watches are existing models that have been given a minor facelift in the form of a complete blackout. Strap, body, face, and dials are all blacked out for maximum covertness. Two of these new black beauties arrived at my door not too long ago; the GA110MB-1A and the GA100MB-1A. Both of these are a combination of analog and digital displays with a quartz movement.
The first thing I noticed was the size. These are definitely huge watches with a commanding wrist presence. At over 50mm in diameter and almost 3/4 of an inch thick, these are two of the biggest utility watches I've tested. That said, they are also both surprisingly light. In fact, neither is noticeably heavier than my original much smaller G-Shock. The strap buckles are stainless with a double notch strap bar to keep them from twisting under hard use.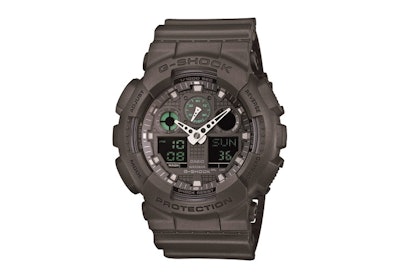 As with any G-Shock, durability is the name of the game. The Military Black line features excellent shock- and magnetic resistance, as well as being water tight up to 200 meters. Additionally, you get a chronograph, countdown timer, calendar, world time, and alarm; all nicely lit by a red LED. Basically everything you need and nothing you don't.
I've been swapping between my two G-Shocks on shift for a couple of months now and have been anything but nice to them. In addition to my 10-hour patrol shifts, I've taken them to the range, gym, and even out for some weekend yard work. After a quick rinse they're good as new. If they're anything like my first G-Shock, I'll be wearing one of them the day I retire. For around $100 each, the G-Shock Military Black watches are an essential piece of gear and an absolute no-brainer.
A.J. George is a patrol sergeant with the Scottsdale (Ariz.) Police Department who also serves as the SWAT team's crisis negotiation supervisor.
Casio G-Shock Military Black Watches Specs:
GA110MB-1A:
Color: Matte black with red accents
Shock Resistant
200M Water Resistant
Magnetic Resistant
1/1000th Second Stopwatch w/Speed Indicator
Battery: CR1220
Battery Life: 2 years
Price: $120
GA100MB-1A:
Color: Matte black with green accents
Shock Resistant
200M Water Resistant
Magnetic Resistant
1/1000th Second Stopwatch w/Speed Indicator
Battery: CR1220
Battery Life: 2 years
Price: $99