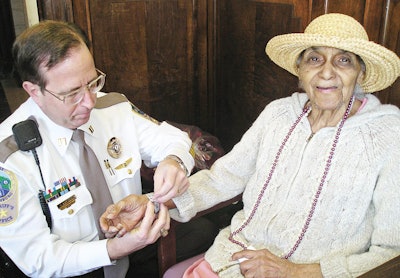 In February a 78-year-old woman with Alzheimer's disease walked away from her home in Citrus Heights, Calif. The local police were called, and in less than 30 minutes, she was back home safe and sound. The story of this California woman could have ended much more tragically. Often such stories do.
But that may now be changing thanks to Project Lifesaver International, an organization that I founded. In February there were 16 rescues of people with diminished capacities who had wandered away from their homes—including the Citrus Heights woman—by members of Project Lifesaver nationwide and first responders we trained. I'll tell you more about Project Lifesaver below, but first let's discuss the problem of special needs people who have a tendency to wander.
Minutes Count
When loved ones go missing, the time they are lost can seem like an eternity until they are found, especially if they have cognitive impairment conditions such as autism, Down syndrome, Alzheimer's, or dementia. Many individuals with these conditions have a behavioral tendency of wandering or "eloping," which can put them in grave danger.
Statistics show that searches for wandering at-risk individuals are becoming more common and are a growing challenge for law enforcement. There are more than 5 million people who have Alzheimer's disease in the United States and about 60% of people with this form of dementia will wander. This means the potential pool of Alzheimer's-affected wanderers is 3 million. But the wanderer population is actually even higher when you consider that Alzheimer's patients are only one of the at-risk populations.
Without effective procedures and equipment, searches can involve multiple agencies, hundreds of officers, countless man hours, and tens of thousands of dollars. But at agencies trained and certified by Project Lifesaver to search for our clients, search times have been reduced from hours and days down to minutes.
Most Project Lifesaver clients are found within a few miles from home. Recovery times for Project Lifesaver clients average 30 minutes, which is 95% less time than standard operations. The emergency response teams we have certified have to date rescued more than 2,965 at-risk people.
Among at-risk people who wander and are found within 12 hours, 93% will survive. Of those who wander and are lost for more than 24 hours, only a third will survive. Of those who wander and are lost for more than 72 hours, only 20% survive. To date, approximately 1,400 Project Lifesaver agency member locations have conducted nearly 3,000 successful rescues.
Training the Rescuers
Project Lifesaver was the first organization to apply tracking technology to a comprehensive training program for the search and rescue of special needs people. Our technology and training have been helping first responders rescue some of the nation's most vulnerable for 16 years.
The Project Lifesaver program for law enforcement includes training in tracking techniques and technology; advice for how to partner with other local first responders; and instruction for how to approach at-risk individuals, gain their trust, and put them at ease for their trips to their homes once they have been located. In addition, the program offers education about the latest health information related to the disorders that affect the people the officers will be working with.
The Tracking Program
At-risk individuals enrolled in Project Lifesaver wear a small personal transmitter around the wrist or ankle that emits an individualized tracking signal. If an enrolled client goes missing, the caregiver notifies the local Project Lifesaver-trained emergency response team. Responders tune into the individualized frequency of the client's transmitter, listening for a signal that can help them locate the client.
But Project Lifesaver is much than just a tracking technology. We're a 501 (C) (3) community-based, public safety, non-profit organization that provides law enforcement, fire and rescue, other first responders, and caregivers with technology and training to protect, and when necessary, quickly locate individuals with cognitive disorders who are prone to wandering. Project Lifesaver is also a subject matter expert and advisor on the wandering issue for such organizations as: Leaders Engaged on Alzheimer's disease (LEAD), the National Center for Missing & Exploited Children, the International Association of Chiefs of Police (IACP), the Alzheimer's Foundation, the National Alzheimer's Project Act (NAPA), the National Council of Certified Dementia Practitioners, and the International Council of Certified Dementia Practitioners. The Project Lifesaver training program is recognized and approved by the Virginia Department of Criminal Justice Services.
Project Lifesaver is the most widely used and effective program in the nation that is specifically designed to protect the "at risk" special needs populations in our communities. Project Lifesaver has trained thousands of public safety agencies, not only in search, rescue, and the use of our electronic locating equipment, but also in how to communicate with a person who has Alzheimer's disease, autism, or a related cognitive disorder.
Certified Project Lifesaver first responders are given the necessary tools to respond to wandering episodes involving children and adults with cognitive conditions. The program trains first responders to understand the behaviors of individuals with special needs that tend to wander so they are able to interact with these people in an effective and successful manner. Project Lifesaver training also includes instruction for families and caregivers on the maintenance of the locating technology and the reporting protocol for when their loved ones go missing.
Along with the our traditional Project Lifesaver training program, which provides a Basic Operator Course, Instructor Course, Airborne Tracking instruction, and an overview of Alzheimer's, autism, and how to approach safely and comfortably bring those individuals home, we have begun to offer more comprehensive and focused training courses for first responders on the cognitive conditions and behavior patterns of the at-risk people who wander. This additional training is offered through our strategic partner Biography Based Care.
Biography Based Care
Biography Based Care is owned and managed by Mara Botonis. Botonis has been leading the way in specialized Alzheimer's disease and dementia awareness training for more than 25 years. She has worked closely with both executive management and operators within the senior housing industry, providing analysis, training, coaching, and ongoing support in the development and implementation of effective person-centered care and customer programs. Botonis is also the author of the best seller "When Caring Takes Courage: An Interactive and Compassionate Guide for Alzheimer's Caregivers."
The specialized work of Botonis revolves around support for persons and caregivers impacted by Alzheimer's and/or dementia and providing specialized training to law enforcement, fire rescue, healthcare professionals, and caregivers.
The first national Biography Based Care Alzheimer's/dementia awareness course will be held at Project Lifesaver's upcoming 12th Annual conference scheduled for Sept. 14 and Sept. 15.
For more information about Project Lifesaver, Biography Based Care, and the 12th Annual Conference go to www.projectlifesaver.org or call 1-877-58-LIFE.
Gene Saunders is the founder and chief executive officer of Project Lifesaver International. He is a retired law enforcement captain who became concerned about wandering by people with special needs while on the job.