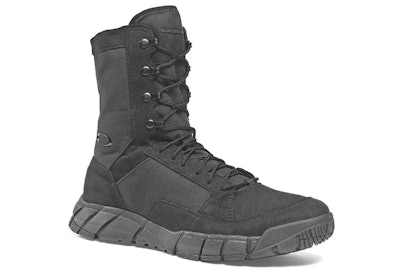 Oakley has made a name for itself in the law enforcement and military market, and not just for sunglasses. Several years ago the company released the original Assault Boot and it was an immediate hit with cops and soldiers alike. In a market dominated by true "heavy boots" the new Oakley Assault Boots were a crossbreed of boot and athletic shoe, meaning they were as durable as any good combat boot but comfortable right out of the box. Not satisfied with well-enough, Oakley recently redesigned the original Assault and shaved off a ton of weight in the process.
Dubbed the Light Assault Boot, this new duty/combat boot retains the style and function of its predecessor while weighing in at a mere 9.2 ounces per foot. Yeah, ounces, not pounds. At 8 inches tall the Light Assault Boot from Oakley's Standard Issue (SI) line provides excellent ankle protection and is a cinch to lace up courtesy of nylon coated loops for the speed laces. A self-cleaning sole incorporates a nylon shank for superior rigidity without adding weight, and the breathable canvas body helps to keep your feet cool and dry even in the hottest climates.
I've had a pair of the original Assault Boots for years and after hundreds of hours on the range and on duty they're still in fantastic shape. Given their track record I couldn't wait to give the new Light version a good beating. Immediately, the weight, or rather lack thereof, was obvious. They were so light, in fact, that I quickly began to wonder how well they'd hold up. I've had "light" boots before and they generally don't last very long. I seized the opportunity to spend a day on one of my favorite, and extremely rocky gun ranges to see how they'd fare. After several hours of running through a rough terrain of jagged rocks and spent brass, the boots were relatively unscathed. The soles showed no obvious wear and my feet were comfortable the entire time, no break-in required.
Available in black, desert tan, and coyote, Oakley's new Light Assault Boots are a great option for anyone looking for an incredibly light and comfortable tactical duty boot. Mine will see a lot more use and abuse in the future.
A.J. George is a patrol sergeant with the Scottsdale (Ariz.) Police Department who also serves as the SWAT team's crisis negotiation supervisor.
Oakley SI Light Assault Boots Specs:
Self-cleaning sole
Full gusseted stretch-mesh tongue keeps dirt out
Nylon shank
Injected molded EVA midsole under secondary cushioning insole board
Nylon-coated fast-lace loops
Height: 8 inches
Weight: 9.2 ounces
Colors: Black, coyote, desert
Price: $84