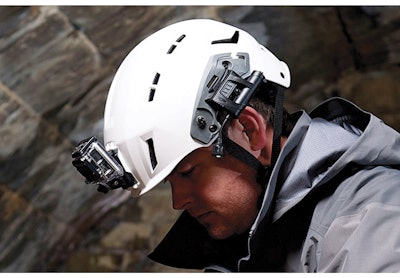 The good people at Team Wendy have hit another home run with the newest addition to their already impressive line of helmets. The new Exfil Search and Rescue, or "SAR," tactical helmet is designed specifically for those in the technical rescue field; firefighters, medics, mountaineers, and other lifesavers who answer the call when man and nature collide.
The Exfil SAR Tactical is a hybrid of sorts. The proven tactical heritage of the original Exfil and Exfil Ballistic helmets has been adapted for search-and-rescue work. Where there is little need for ballistic or covert bump protection, there does exist a need for a well-designed and well-fitting helmet that not only protects the operator's head but also offers the many mounting points and high-visibility features vital to safe rescue operations.
The outer shell is made of high-strength Lexan polycarbonate, is high cut to accommodate communications and hearing protection, and comes in a choice of U.S. Coast Guard orange, red, white, and black. An aluminum Wilcox insert comes standard for mounting a variety of night vision and lights and there is a strap pass-through in the back to accommodate goggle straps or headlamps. On either side is Team Wendy's SAR Accessory Rail 2.0 system that allows for a variety of mounting options, including a section of Picatinny rail. Everything from lights to hearing protection to a high-altitude oxygen mask can be secured effortlessly. Removable vent panels keep the user cool, and reflective Velcro panels make for excellent visibility.
Inside the SAR is housed all of the technology that has made Team Wendy's helmets distinctive in the industry. The main protection and shock-absorbing shell is made of high-density foam that is not only superlight, but also meets many of the EN requirements for mountaineering and whitewater work, as well as advanced combat helmet blunt impact strength. Think of a bicycle helmet on steroids. The Boa closure system and cam-lock sliders on the straps make for a customized, one-handed fit. Each SAR comes with two sets of Zorbium anti-microbial liners that wick moisture and enhance comfort. A helmet really isn't supposed to be this comfortable, but this one is.
I wore mine for a few hours on the range (I don't do a lot of mountaineering) and almost forgot it was there. To get an expert's opinion I handed it off to a good friend who just happens to be a team leader for the local search-and-rescue team. It took him about five minutes to decide he wanted one for himself. If your tactical team doubles as a search-and-rescue squad or your agency runs a dedicated element I suggest you give the SAR a try.
A.J. George is a patrol sergeant with the Scottsdale (Ariz.) Police Department.
Team Wendy SAR Tactical Helmet Specs:
High-strength Lexan polycarbonate copolymer shell
High-cut shell design with clearance for ear protection and communications headsets
Includes integrated Wilcox aluminum shroud
Military-style Cam-lock sliders for one-handed adjustment and secure fit
Boa Closure System integrated directly into helmet liner for optimized stability and fit
Zorbium foam comfort liners in two thicknesses with Microban anti-microbial treated wicking fabric
SAR Accessory Rail 2.0 system
Magpul MOE compatible
Pass-through for securing headlamp or goggle straps
Two removable vent covers
Compatible with the Exfil Peltor Quick Release Adapter, Exfil Picatinny Quick Release Adapter, Solas Reflective Kit, Exfil Counterweight Kit and additional accessory items to come in 2015.
Available in U.S. Coast Guard Orange, White, Red, and Black
Price: $304.95