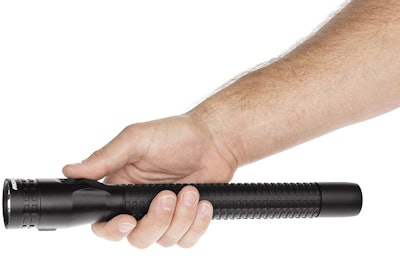 Bayco Products Inc., has been around for over 30 years making a variety of industrial lighting for commercial industries like construction and automotive work. About eight years ago the company made the leap into the law enforcement market with its Nightstick brand of lights. Two of them made their way into my hands recently for an on-duty test drive: the full-size NSR-9744XL and the smaller TAC-560XL.
Starting with the big NSR-9744XL, the first thing I took note of was the size and shape. Nightstick touts this as a full-size light but it seemed anything but, in a good way. I'm used to a large Streamlight SL20 so that's my benchmark for big lights. The NSR-9744XL wasn't as hefty by any means but it was just as handy and every bit as bright. The long body was narrow and the main bezel wasn't much bigger. The 650-lumen Cree LED will throw a focused beam over 275 meters, which is more than enough for most police applications. The most distinctive feature of this light was the 600-lumen unfocused floodlight integrated into the housing that can be turned on independently. With the NSR-9744XL tucked under an arm this little accessory LED makes for a fantastic working light for filling out paperwork or illuminating an area for an evidence or vehicle search. It is a great innovation and something I've not seen before.
Stepping down to the smaller TAC-560XL, the package is about the perfect size for a tactical belt-carried flashlight. Three brightness levels as well as a strobe function are actuated by a single tailcap that can be momentary or constant on. On its highest setting the TAC-560XL blasts 800 lumens over 205 meters. That kind of power out of a light this small is rare.
Both lights are rechargeable and feature a machined 6061-T6 aircraft aluminum body that is hard anodized for durability and corrosion resistance. The kit for each comes complete with a charging cradle, standard wall plug, and a car adapter so you should never be without power. The TAC-560XL even comes with a spare CR123 battery carrier that can be swapped in for the lithium ion rechargeable stick if you run out of power in a pinch.
I was impressed with the performance of both lights and would have no hesitation throwing one in my gear bag on a permanent basis. The company has been around for a long time and stands behind its products with a limited lifetime warranty so you can feel good about your investment.
A.J. George is a patrol sergeant with the Scottsdale (Ariz.) Police Department.
Super-bright Xtreme Lumens design
Cree LED technology for 50,000+ hours
Flashlight/Floodlight/Dual-Light
Momentary- or constant-on plus 3 brightness levels and strobe
Sharp-focused flashlight beam
Effective beam distance of over 902 feet
Unfocused wide-beam floodlight
Aircraft-grade aluminum housing/tail cap and stainless steel bezel
Waterproof
Impact and chemical resistant
Serialized for personal identification
Powered by Lithium-ion rechargeable battery (included)
Price: $ 157.95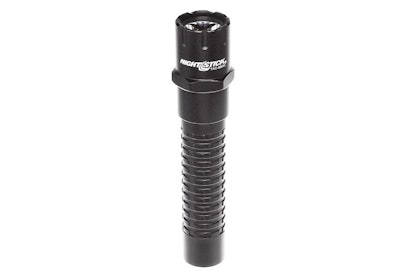 Super-bright Xtreme Lumens design
Cree LED technology for 50,000+ hours
Momentary- or constant-on plus 3 brightness levels and strobe
Sharp-focused flashlight beam
Effective beam distance of over 670 feet
Aircraft-grade aluminum housing, bezel, and tailcap
Large textured tail switch
1" handle diameter
1.25" head diameter accepts third-party filters
Waterproof
Impact and chemical resistant
Serialized for personal identification
Powered by rechargeable Lithium-ion battery (included)
CR-123 battery carrier (included)
Price: $ 99.95