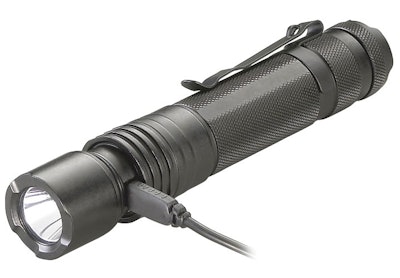 A good flashlight is a must, but keeping it powered is a never-ending battle. If you're like me and have spent a considerable portion of your career working in the dark, you know the struggle. If you're not feeding your light handfuls of expensive batteries you're searching through your gear for that proprietary charger to keep it powered up. Streamlight has eliminated the hassle of both with its new ProTac HL USB flashlight. Batteries and charging cradles? A thing of the past.
The ProTac HL USB is a relatively small handheld torch that spits out up to 850 lumens of light. At 6.5 inches long and a mere 7 ounces, the ProTac is easily stowed in a pocket or on a gun belt yet big enough to wrap your entire hand around or even tuck under an arm if need be. The body is machined out of aluminum with good knurling for grip and a clean anodized finish. Operated by a single tailcap switch, the ProTac features Streamlight's brilliant "Ten-Tap" technology that allows you to program the switch to your liking by choosing from three brightness settings and a strobe feature. As I prefer a simple on or off mode it is nice to have the ability to "program out" the settings I don't want. Never again am I going to get a strobe light when I'm not expecting it.
The star feature of this light is the charging method. Instead of some proprietary charging cord or cradle, the ProTac HL USB gets its juice from a standard micro-USB cord. Yup, the same ones you've likely been using to charge your phone, camera, or any number of small electronics. This means you can charge your light anywhere you can find a USB port and use any of those extra cords you already own. I dug up a few extras and put one in my office and another in my car. Not having to keep track of a special cord is a welcome feature. My ProTac HL USB has found a home with my tactical kit and so far I've been more than happy with it.
Streamlight is a leader in the light industry and there's no question about their quality. They even back it up with a lifetime warranty. I think the ProTac HL USB is worth every penny.
A.J. George is a sergeant with the Scottsdale (AZ) Police Department assigned to the Technical Operations Unit, Special Investigations Section. He has more than a decade of law enforcement experience in patrol, field training, and traffic enforcement.
TEN-TAP Programming: High/strobe/low; high only; low/medium/high
Modes:
High: 850 lumens; 10,000 candela; 200m beam; runs 1.5 hours
Medium: 350 lumens; 4,000 candela; 126m beam; runs 4 hours
Low: 85 lumens; 1,000 candela; 63m beam; runs 12 hours
Strobe: runs 1.5 hours
Batteries: Lithium ion battery (P/N 74175); also accepts two 3V CR123A lithium batteries or a commercially available Li-Ion 18650 rechargeable battery
Cradle: Self-adjusting battery cradle secures multiple battery sizes and eliminates battery rattle
Recharging: USB cord included; AC wall adapter optional
Price: $180