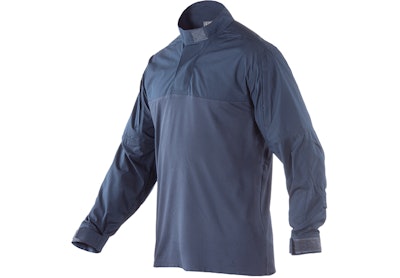 5.11 Tactical is at it again, expanding its already impressive line of all things tactical. The company's new Stryke TDU pants and Stryke TDU Rapid long-sleeve shirt are as impressive as their predecessors but with a handful of improvements that make them standouts in the arena of tactical clothing.
We'll go from the bottom up and talk first about the new Stryke TDU pants. Made from a combination of 5.11's 6.76-ounce Flex-Tac rip-stop fabric and stretch nylon, new Stryke TDUs have everything a good pair of tactical pants should. There are roomy cargo pockets on each side, plus deep hip pockets and rear pockets with flap closures. The crotch is gusseted and there is bar-tack stitching at all stress-points to keep you from tearing through them in the middle of a mission. The bottom cuffs have durable cords for blousing and the belt loops are wide and sturdy. That covers everything you need in a good pair of pants, right? Well, maybe not.
5.11 upped the game by adding breathable stretch nylon panels at the hips and behind the knees. This gives the Strykes added flexibility and air flow. The cargo pockets are canted to allow for better accessibility, especially when sitting, and everything is coated with a Teflon finish for maximum stain resistance. The fit of these pants is what I would call an "athletic cut" so if you're not in that category they might be a little uncomfortable for you.
The Rapid TDU shirt is a great complement to the Stryke TDU pants. A cross between a uniform shirt and a traditional assault shirt, the Rapid TDU is constructed of 5.11's Flex-Tac fabric on the shoulders and sleeves with a polyester and spandex torso. The collar is a mock-neck style with a zippered front closure. Two Velcro strips keep the front flap securely closed. There are zippered pockets on each shoulder, as well as reinforced elbow pockets for adding padded inserts. The left sleeve features pen pockets on the forearm and both have Velcro closures at the cuffs.
The Rapid TDU shirt comes clean but includes a set of epaulettes, badge panel, and two Velcro loop panels that can be sewn onto the shirt for a customizable, uniform appearance. Made to wear under armor, the Rapid TDU is a smartly designed shirt that offers a ton of functionality along with a professional appearance.
As with any of 5.11's offerings, the Stryke TDU pants and Rapid TDU shirt are built with the professional in mind and made to last. Take a look at your local uniform shop or check them out online at www.511tactical.com. At just under $80 each, this is a great tactical uniform at an equally great value.
A.J. George is a sergeant with the Scottsdale (AZ) Police Department assigned to the Technical Operations Unit, Special Investigations Section.