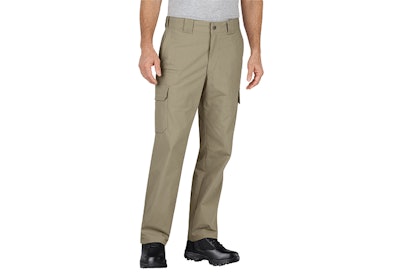 Dickies is synonymous with hard-use work clothing. The company's been keeping America's workforce outfitted for decades because its stuff is simple, affordable, and can take a beating. Not too long ago Dickies decided to take a shot at the tactical market with a full line of shirts, pants, jackets, and boots designed with the modern law enforcement officer in mind.
The company's latest offering is its Ripstop Tactical Pants. These cotton and polyester blended pants retain the rugged functionality that has made Dickies famous while adding a ton of features usually reserved for a much more expensive pair of trousers. The fabric is somewhat thick and relatively rigid but the cotton blend with cross-weave ripstop pattern will likely soften up over time. This robust construction likely means longer service life and less chance of an embarrassing split seam in the middle of a training day. Wide tunnel belt loops, a durable YKK zipper, and a double-layered seat beef them up even more. Throw in a comfort stretch waistband and knee-pad pockets and you've checked just about all the boxes.
The term "tactical pants" more simply means "pants with a ton of pockets," and these new Dickies don't disappoint. Here's the breakdown. The front slash pockets are somewhat narrow but are deep enough for a rifle magazine and have a wide opening with a level cut at the bottom for a knife clip. Just below the right pocket is a small slit pocket large enough for a cell phone. Both cargo pockets are wide and roomy thanks to their pleated construction. The flaps are Velcro secured and the interior features a small divider to keep your gear organized. The rear pockets are the traditional "quarter circle" opening tactical pockets deep enough to use as a dump pouch and secured with a single Velcro tab. As a bonus, inside each of these pockets is a more traditional slash back pocket that's the perfect size for your wallet.
All in all, these are a fantastic pair of tactical pants, especially for the bargain price of around $50. They're available in black, tan, green, and dark blue and available now at www.dickiesdelivered.com.
A.J. George is a sergeant with the Scottsdale (AZ) Police Department assigned to the Technical Operations Unit, Special Investigations Section.