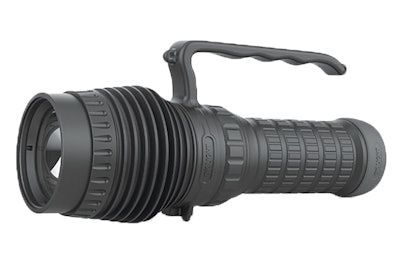 AE Light is not your typical flashlight company. Where others might specialize in handheld tactical lights, AE focuses its attention on pure lighting power. To show me exactly what that means they sent me one of the company's HID searchlights, the AEX35/50.
The AEX35/50 is constructed of machined and anodized 6061 aluminum and is waterproof to 50 meters. The large lens is temperature- and scratch-resistant glass and can be outfitted with several colored and IR filters. At just over 12 inches and about 4.5 pounds, this certainly isn't the kind of light you'd clear a building with, but once you turn it on it becomes very clear that wasn't its intended purpose.
This is a searchlight. It is designed to blast a wide beacon of daylight over a very long range. It just happens to be in a package small enough to carry with one hand. Considering most lights of this power are mounted to vehicles, that is truly impressive.
I took the AEX35/50 out to a piece of open desert after the sun went down to see just how big of a punch it was packing. With the lithium-ion battery fully charged I twisted the magnetic rotary power switch to the higher of the two settings for 50 watts of power. Just like any other HID ballast, the AEX35/50 took a few seconds to "ramp up" to full output, but once it got there it was awe-inspiring.
AE claims 1,500 meters of beam distance at 5,300 lumens, and I don't doubt that one bit. For those of you doing the math in your heads, that's a beam almost a mile long. The beam itself was somewhat focused but at maximum distance provided an abundance of light. The bezel does get pretty warm but that is to be expected in a light with this level of output. AE claims a runtime of up to 160 minutes in the highest power setting and over 220 in the 35-watt mode. The battery pack is in the handle and can be easily hot-swapped for an almost endless runtime. Charging the depleted batteries takes almost 6 hours so you'll likely want to keep a couple of spares around.
The AEX35/50 comes standard with one high-capacity battery, ABS plastic carry handle with tripod mounting threads, shoulder strap, charging cord, and Pelican case. Additional batteries, chargers, colored lens filters, and bulbs are available, as is a law enforcement and military discount. You'll have to contact AE for the deal. If you have a need for a ridiculous amount of light in a handheld package the AEX35/50 is tough to beat.
A.J. George is a sergeant with the Scottsdale (AZ) Police Department assigned to the Technical Operations Unit, Special Investigations Section.