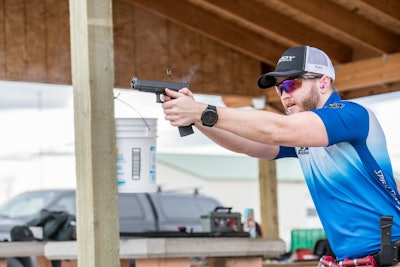 Built for sport, Rudy Project eyewear is some of the best in the business with a reputation to back it up. I'll be honest, I've always admired the style of Rudy Project sunglasses but I've never owned a pair. They recently fixed that problem for me and sent me one of their new Tralyx performance shooting and hunting eyewear kits, and I can tell you their reputation is well deserved.
The Tralyx kit (you can buy just the glasses) comes with three lenses, frames, a cleaning and storage bag, and a rigid zippered clamshell to protect everything. I'll start with the foundation, the frames. Built from extremely lightweight matte-black polymer, the Tralyx frames are skeletonized for additional weight savings and feature replaceable rubber stems for grip. The hinges are aluminum for excellent durability and they're flexible enough to fit just about any head size.
The Tralyx kit comes with three lenses: clear, smoked, and "photo multilaser racing red." The first is self-explanatory and the second is a clean grey tint that is just dark enough to knock down sunlight yet light enough not to impede your vision. The third lens in "racing red" is probably the best all-around lens I've tested in a long time. As the name implies, these are more red than traditional amber lenses and definitely do a better job of balancing light transmission. I thought they worked great indoors as well as in bright sunlight. They don't block out the light as much as they block the glare, and that's really the unpleasant aspect of sunlight anyway. Everything you see is clean, balanced, and crystal clear.
The Tralyx are perfectly at home on the range or the playing field, but unlike a lot of shooting glasses, these are actually very stylish and I've been wearing them every day with zero fear of being laughed at. I've actually had several compliments. I keep the spare lenses in my backpack and can swap them out in seconds, no tools required. Overall, the Tralyx kit is the best eyewear multi-tool for just about any job. Available now through the Rudy Project website for just under $350. Take a peek at www.e-rudy.com.
A.J. George is a sergeant with the Scottsdale (AZ) Police Department assigned to the Technical Operations Unit, Special Investigations Section. He has more than a decade of law enforcement experience in patrol, field training, and traffic enforcement.