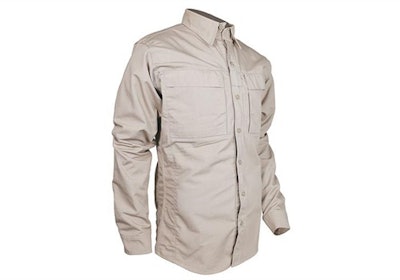 Tru-Spec is like a major-leaguer in a homerun derby. Every time they swing, the ball gets knocked out of the park. I've reviewed a ton of the company's stuff and it seems like every time, something new comes along that somehow improves upon the previous version. Enter the new Tru-Spec Urban Force TRU line of apparel.
The whole idea behind the Urban Force TRU (Tactical Response Uniform) line is to retain all of the militaristic features that make the clothing fully functional for law enforcement use, yet make the appearance more clean and professional and less G.I. Joe. They sent me a few examples to prove their point.
First up is a pair of shirts: the Urban Force TRU Dress Shirt and Urban Force TRU Shirt. Both made from a 65/35 poly/cotton rip-stop blend, these shirts are durable enough for duty and tactical use. The first features a button-down collar, zippered front with faux buttons, clean front chest pockets, and buttoned cuffs on the sleeves. This is basically a more utilitarian version of a classic uniform shirt. If you're looking for something a little more tactical, the Urban Force TRU shirt has everything the Dress shirt offers, plus upper arm pockets with Velcro panels, Velcro cuffs and collar, plus a name tape and epaulette kit that can be added for a more uniformed look. Think of this one as a cross between a traditional BDU combat shirt and a classic uniform top.
The Urban Force TRU pants follow the same concept. Made from the same poly-cotton rip-stop fabric, the pants feature robust YKK zippers, a comfort fit slider waistband, gusseted crotch, and wide belt loops. The cargo pockets are deep and expandable yet lay flat and clean when not in use. The front and rear pockets are equally functional yet follow suit with clean openings for a professional appearance. Need to add knee pads or draw-cord to the cuffs for a tactical mission? They've got you covered with internal knee pad pockets and a draw cord channel ready to go.
All in all, the Urban Force TRU line of apparel is definitely a homerun and in my opinion exactly where the future of law enforcement uniforms should be heading. We need to be comfortable and functional without losing sight of the clean, professional appearance that helped us earn our noble reputation in the first place. Tru-Spec has all of that covered. The entire Urban Force line is available now at your local uniform shop or at www.truspec.com.
A.J. George is a sergeant with the Scottsdale (AZ) Police Department assigned to the Technical Operations Unit, Special Investigations Section. He has more than a decade of law enforcement experience in patrol, field training, and traffic enforcement.