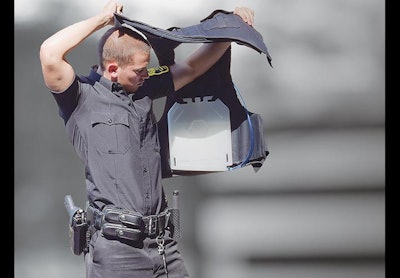 Justin Li is an inventor and co-founder of Qore Performance Inc. But he was on duty as a member of the San Diego (CA) Sheriff's Department when he came up with the idea for the IcePlate as a way to keep himself and his friends cool while wearing ballistic vests.
Friends in the special operations community told Li they would stuff frozen water bottles into their pants pockets and armor carriers to keep cool while working, but he wanted to devise a more elegant solution that would still meet the military's stringent requirements for weight and power of any devices. So he struck upon the idea of essentially creating a flat water bottle shaped to be worn under armor with a drinking tube attached. And the IcePlate was born.
"It's a 50-ounce water bottle shaped like a SAPI armor plate," Li explains. "You fill it with potable drinking water and freeze it overnight, and you slide it between your armor and your base layer: front, back, or both. As your body heat melts the ice, keeping you cool and keeping your core temp down, it creates ice cold drinking water for you."
Strap loops are built into the "bottle" itself to help keep the IcePlate secure. It comes with reusable Velcro straps, but you can also put pretty much anything through the loops, including zipties or shoelaces, to attach the IcePlate to the shoulder straps of an external plate carrier.
Qore Performance uses the slogan #StayFrosty to promote the IcePlate, but you can also refill it with hot water to stay warm in cold weather. In fact, some Air Force special ops personnel took their IcePlates to the Arctic Circle recently. "It kept the water from freezing in those conditions, which was something they hadn't experienced before," says Li.
You can even refill the IcePlate with hot or cold water while it's mounted in your armor carrier. The drink tube is designed to be cross-compatible and work with other companies' water bladders. Or you can swap out your empty or cooled down IcePlate for another one that's frozen and ready to go in around 20 seconds, according to Li. And you can get every last drop of water until the IcePlate is completely empty thanks to the distinctively slanted bottom from which the tube draws water providing an "asymmetric low-point drain."
Also thanks to their distinctive shape, multiple IcePlates can be stacked, for easy storing and transport. This means they could be used to provide relief to emergency responders working long hours at a critical incident in place of bottled water. Once empty, they can easily be cleaned for reuse.
Li says he designed the IcePlate for easy maintenance. If you always keep it in the freezer when it's not in use and you only fill it with water, you never have to clean it because the intense cold will prevent bacteria from growing. If you use an additive or electrolyte mix in the water, you can fill the IcePlate with soapy water, shake it, and rinse it clean. Or you can throw the whole thing in the dishwasher, including the tube. Li says some customers have told him they use an air compressor to clean and dry the IcePlate quickly.
While the IcePlate is never intended to be used in place of true ballistic protection, it has been shown in testing to greatly diminish backface deformation when behind Level II soft armor. "So this is obviously a tremendous benefit to anyone wearing soft armor," Li says. "If you look at the testing, you see that backface deformation goes from the NIJ allowance from about 44mm to so negligible that we could barely measure it. The closest we could figure out was about 0.01mm."
Pricing for the IcePlate starts at $39 for white, and $44 for desert tan. Qore Performance is proud that the product is made 100% in the United States, and that a police officer is behind its invention and manufacture.
"It was a passion project for us," says Li of his company's dedication to getting the IcePlate ready for market in just eight months. "I have so many friends overseas and behind the badge, and I didn't want anything to get in the way of them being safer."