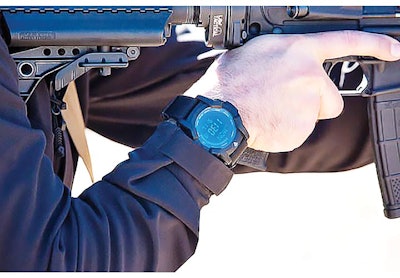 First Tactical is what I would consider a rising star in the tactical apparel industry. I've reviewed several of their products and have yet to be disappointed, and that includes the company's recent venture into the watch arena. Dubbed the Canyon Digital Compass Watch, First Tactical's new timepiece is as functional as it is durable and practical.
The Canyon Digital Compass is a very substantial watch. At 11 inches long and 2 inches wide you immediately notice how solidly built this timepiece truly is. The Canyon Digital Compass' electronics are encased in a rugged rubber case with an equally beefy silicone strap. The case itself features raised edges to protect the screen and it has a stainless case back that is water resistant to 10 meters. Unlike some of its competitors, the Canyon Digital Compass' strap is surprisingly supple and comfortable right out of the box with no need for the break-in period I've experienced in the past. It's also long enough for most to wear over a base layer. The metal buckle is anodized and the straps are hinged at the case for added flexibility.
Although not overly complex, the Canyon Digital Compass packs all of the essential features you'd ask for in a good tactical timepiece. The display is a reverse image, meaning the background is black with contrasting displays for day, date, and time. This is actually easier on the eyes than the alternative. There is a digital hash-mark second counter around the perimeter and a compass function to keep you on track during long treks through the great outdoors. All of these are controlled by five robust, knurled buttons on the sides that are easily manipulated with gloved hands. Need a ruler or a refresher on your Morse Code? Flip over the strap and the Canyon Digital Compass watch has you covered.
I've been wearing mine for a few weeks now and, although hefty, the Canyon Digital Compass watch is surprisingly comfortable to wear. I own several other utility watches with a wide variety of capabilities but I truly appreciate the simplicity and utilitarian nature of the Canyon Digital Compass. Available in black, tan, or OD green, I'd suggest the Canyon Digital Compass as a strong candidate for your next duty-grade timepiece. Check it out along with First Tactical's other timepieces at www.firsttactical.com.
A.J. George is a sergeant with the Scottsdale (AZ) Police Department assigned to the Technical Operations Unit, Special Investigations Section. He has more than a decade of law enforcement experience in patrol, field training, and traffic enforcement.