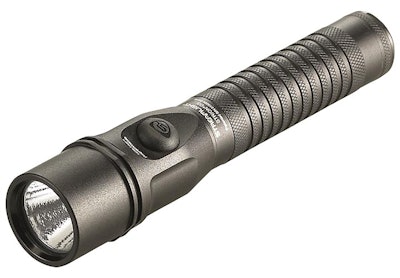 The Streamlight machine is showing no signs of slowing down. It seems like every time I finish reviewing one of their products, they've got something new on the horizon. For most companies this would be a sign of a "quantity over quality" dilemma, but for Streamlight it just means they're building a quality light for just about every mission you could imagine.
The latest torch to arrive on my review desk was the Strion DS rechargeable LED handheld light. At 6 inches long, 1 inch wide, and a mere 5 ounces, the Strion DS packs a ton of light into a very compact package. The anodized aluminum body houses a lithium ion battery stick and Streamlight's proprietary C4 LED bulb with a claimed lifespan of over 50,000 hours. The body has raised and knurled ridges for added grip and the high-temperature glass lens is scratch- and crack resistant.
With high, medium, low, and strobe functions, powering the Strion DS is a breeze via either the side or tail switch. Both are large and rubberized for both IPX4 water resistance and ease of use, and feature Streamlight's Ten-Tap technology. This allows the user to program the light to their preference of the Strion's three lighting profiles. On the highest setting, the Strion blasts out 375 Lumens of white light with a runtime of over 2 hours, at the end of which the Strion is easily recharged by snapping it into the included cradle and plugging it into either the wall, cigarette lighter, or the USB port on your computer. Three hours later you'll be back up and running with a full charge.
Streamlight offers a variety of accessories for the new Strion DS to include additional charging cradles, battery sticks, power cords, lens caps, weapon mounts, and belt pouches. This allows you to task one light with many different missions and means you'll always have a power source nearby to keep it running. Check out more on Streamlight's new Strion DS at www.streamlight.com.
A.J. George is a sergeant with the Scottsdale (AZ) Police Department assigned to the Technical Operations Unit, Special Investigations Section. He has more than a decade of law enforcement experience in patrol, field training, and traffic enforcement.