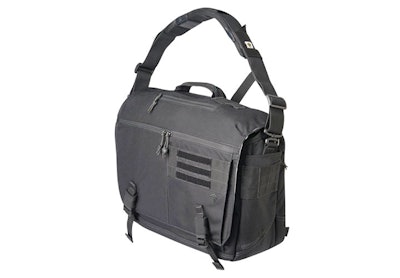 There are some officers who don't like carrying a backpack and are searching for just the right tactical briefcase; First Tactical has the innovative answer with its Ascend Messenger Bag. It features a well thought out functional design for today's world. I prefer carrying a satchel or briefcase myself, but until now there had never been one that could carry all of my "stuff."
This messenger bag is ideal for trainers, investigators, and personal travel. Its size and options make it perfect for use as a patrol bag as well. One feature I really like is its 18-inch length compared to most traditional bags' 13 inches. This allows the Ascend Messenger bag to fit longer legal files, accordion portfolios, and even larger laptops inside. I managed to pack my laptop and projector with all of my handouts for a class in one bag. And there was still room for the bag to hold the necessary cables, connectors, and assorted other items.
First Tactical's Ascend is a messenger bag large enough and secure enough for your toughest real-world daily applications. All items will be safe due to the closed cell foam padded main compartment and separate padded laptop compartment, among other useful compartments.
There is a luggage mount in the back for travel and a non-slip shoulder strap and cross body strap for security. On the back of the bag you'll find a CCW pocket and inside it are elastic loops to carry all of your tactical necessities (extra magazines, lights, IFAK pouch, and knives). Another well thought out and much appreciated item is the padded glasses pocket on top of the flap underneath the handles—no more scratched or dropped sunglasses. Three interior pockets and slots and pockets within them secure all of your needful things. Two zip-out water bottle/gear pockets also flatten out nicely, so they won't snag on anything when they're empty.
The webbed exterior is compatible with MOLLE/PALS, and some exterior Velcro lets you attach a name tag or morale patch. Trust me, put your name on this one; others will be envious of this bag. The main flap features Velcro silencers to prevent that tearing and ripping sound when you open up some bags. These mufflers allow you to make a professional impression with noise discipline.
For those who want a tactical briefcase made for the rigors of your active life, here is the answer. It is large enough to carry virtually everything. And believe me, I tested the theory, packing the bag to find out how much I could carry if I had to. The pockets and slots were designed around a police officer's lifestyle. The loops and inner pocket all fit my everyday gear, and few other bags can accomplish this feat. This product is built to last. I strongly recommend this bag for its thoughtful design for a multiplicity of applications. The old trainer side of me now has that one bag I had been seeking for decades. You can check out the rest of First Tactical's product line at www.firsttactical.com.
William L. "Bill" Harvey is the chief of the Ephrata (PA) Police Department. He retired from the Savannah (GA) Police Department where he worked assignments in training, patrol, and CID. Harvey has more than 25 years of experience working with recruits, rookies, and FTOs.