5.11 Tactical
TAC A2 Glove
Worn by law enforcement officers and special operators around the globe, 5.11 Tactical's TAC A2 is designed for enhanced comfort and enhanced dexterity in any operational setting. The TAC A2 glove utilizes the patented TacticalTouch precision fingertip design to provide exceptional tactility when shooting. A breathable stretch nylon back panel keeps the wearer's hands cool and dry, while reinforced finger joints, synthetic leather grip pads, and a reinforced thumb saddle offer protection against laceration and abrasion. The glove includes an integrated sweat wipe panel on the thumb and a reliable neoprene/hook and loop closure.
www.511tactical.com/tac-a2-gloves.html
Blauer
Touchscreen-Enabled Uniform Gloves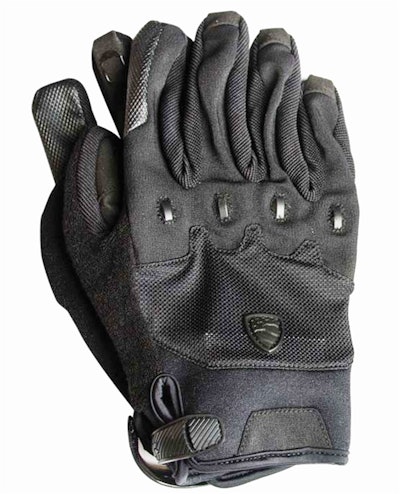 Blauer's new Fray glove is designed to be a tough, all-purpose duty glove meant for no-nonsense use in modern patrol. Water-repellent but highly breathable, it features molded EVA inserts on the knuckle and thumb pad to shield against impacts with hard or rough surfaces, and is built from durable sheep leather for an excellent grip. It is touchscreen-enabled to allow officers to utilize electronic devices as needed.
First Tactical
Slash Patrol Glove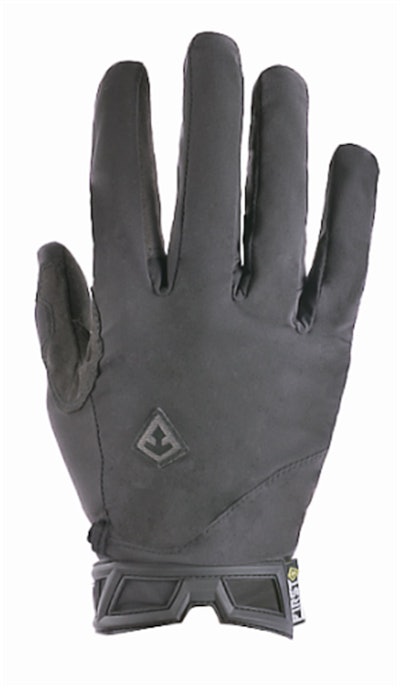 First Tactical's Slash Patrol Glove is made to combine extreme tactility with long-term durability. It is a tactical glove designed to allow users to act with maximum speed and precision while providing peace of mind at the same time. Featuring a Kevlar-lined palm, it provides slash protection for confidence when dealing with sharp objects on the job. This glove is made to perform, whatever the task at hand.
www.firsttactical.com/products/slash-patrol-glove
Hatch
Task Heavy Knuckle Glove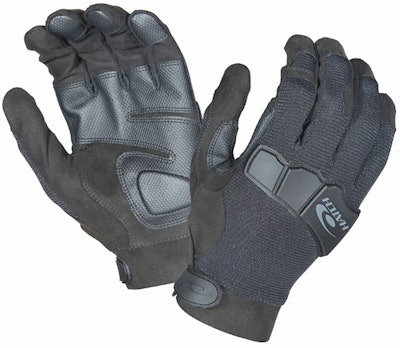 Purpose-built for heavy-duty law enforcement applications, the Hatch model TSK326 Task Heavy Knuckle glove has a diamond grip material on the Z-pattern palm and fingertips for extra grip and protection. The knuckle is made of Thermoplastic Rubber (TPR) for shock-absorption, and the back of the hand is constructed of lightweight, breathable stretch fabric. The Task Heavy Knuckle incorporates the five innovative features of the Task Specific line including the Ergo-cut Floating Thumb pattern, Cut-Ring index finger, articulated strap, all-soft flexible cuff, and touchscreen technology. The Task Heavy Knuckle glove is made to be both durable and comfortable, and provide protection while you take on the toughest tasks.
http://www.safariland.com/products/holsters-and-gear/gear/gloves/task-specific/model-tsk326-task-heavy-knuckle-glove-HATCH_16.html
Mechanix Wear
Recon Glove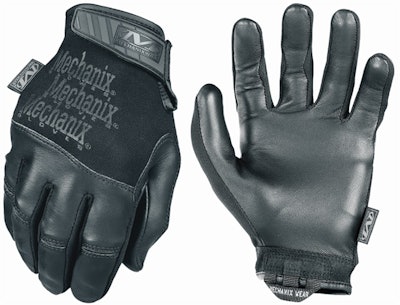 The Recon from Mechanix Wear is a performance leather tactical glove designed to provide law enforcement officers with versatile hand protection when responding to calls for service and making arrests. The glove is anatomically designed to conform to the natural curvatures of the hand using three-dimensional patterning. The palm features 0.6mm hair sheep leather to deliver the perfect blend of dexterity and durability in the field. The Recon glove helps you maintain connectivity on the beat with touchscreen technology in the palm of your hand.
www.mechanix.com/recon-tactical-shooting-glove
Voodoo Tactical
Operator's Short Gloves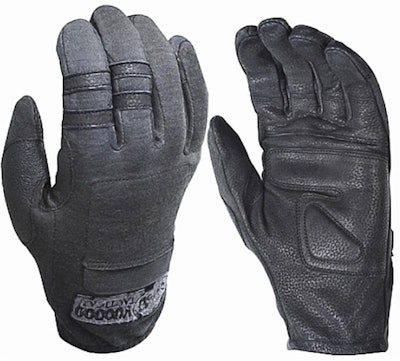 Voodoo Tactical Operator's Short Gloves incorporate the same features as found in the company's Tactical Operator's Long Gloves, including the Heat Pac Pouch (heat pack not included) for warmth in extreme cold, tactile leather palm and finger tips for improved dexterity and comfort, and cut-off stitching to eliminate raveling on the trigger finger. This model features an elasticized short wrist for comfort. Available in black only.